Andy Murray hopes Glasgow can recapture Olympic spirit
Last updated on .From the section Scotland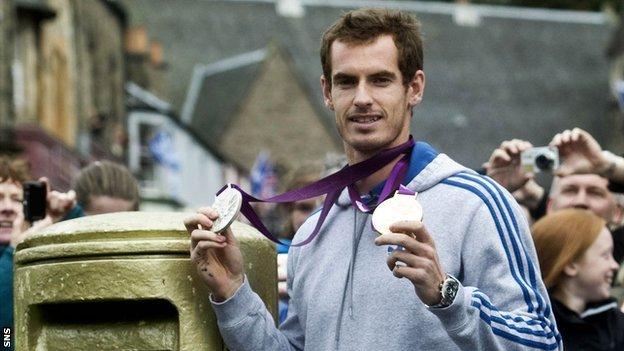 Andy Murray hopes Glasgow can recapture the spirit of London 2012 if the city succeeds in its bid to host the 2018 Youth Olympic Games.
is championing , with the decision due on 4 July.
Argentine capital Buenos Aires and Medellin in Colombia are the other candidate cities.
"Even nearly a year on I think we all miss the Olympics," said Murray.
"It was a special event and a special time for me that I will never forget.
"One of the best things about London 2012 was the way kids got into it and were inspired by some of the amazing performances we saw.
"We must keep that inspiration alive and empower all our kids to believe they can be champions in their lives just the way we were last summer.
"An amazing way to continue that would be to bring the Youth Olympic Games to Glasgow in 2018."
As well as winning gold in the men's singles tournament, before going on to .
"The Youth Olympic Games are all about encouraging kids to be champions and to work hard to achieve their goals," added Murray.
"Kids need to believe that all of this is possible, I certainly did.
"Things are pretty hard for young people right now and it is vital their interests are at the heart of everything people who have influence do.
"I think Scotland would embrace a Youth Olympics in a special way to help kids achieve their true potential whatever their dreams are."