Eilidh Child looks for more after new Scottish hurdles record
Last updated on .From the section Scotland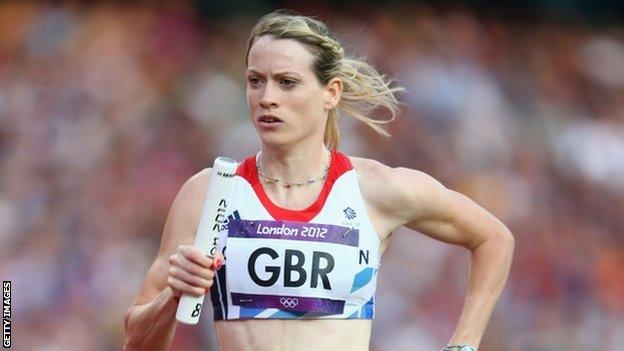 Eilidh Child believes there is still room for improvement despite posting a new personal best and Scottish record in winning the 400m hurdles in Geneva.
Her time of 54.93 seconds was faster than Perri Shakes-Drayton managed in the Diamond League in Eugene to leave the Scot top of the British rankings.
"There were still a few errors in my race," Child admitted to BBC Scotland.
"So I hope there's more to build on and more to come in the next couple of races."
Child's next outing on the European outdoor circuit is the Meeting International de Montreuil in France on Monday.
"It is difficult to compare different races in different countries, but I'm delighted that I have held on to that UK number one spot and hopefully I can do that for the rest of the season," she said after improving her time by 0.03.
"This was only my second race over the hurdles this year, so to run a PB this early, I'm just delighted."
The Olympian and Commonwealth Games silver medallist had achieved new Scottish records on the flat over 400m indoors earlier this year and she is pleased to be continuing that over the hurdles.
Child's latest run puts a marker down for the World Championships in Moscow with Team GB and NI, with a place in the final in Russia already her stated goal.
"The indoor season was really good for me to give me the confidence that I have the flat speed there," she said.
"Because my 400 time was nice and quick, it just showed me that I've got my speed right and it's just about getting my hurdling right.
"I was a bit disappointed at how I performed at the Olympics and that gave me a bit of an urge to get myself in gear.
"This is my second year as a full-time athlete based in Bath and I'm in better shape than I was last year."
Child's achievement came on a weekend when a clutch of fellow Scots achieved qualification standards for next year's Commonwealth Games in Glasgow.
Endurance athletic Lennie Waite, thrower Kirsty Yates and distance runner Laura Whittle added to a lengthening list.
Waite, from Paisley, had a fine run in the 3,000m steeplechase, clocking 9.56.46 to run inside the women's qualifying time of 10 minutes.
She joins Eilish McColgan in having one standard for the 3,000m steeplechase for the Commonwealth Games with each athlete needing to post two - except in the marathon, the 10,000m and relay events.
Yates, who lives and works on a farm near Dalbeattie, putt the shot 15.66m in Bedford on Saturday.
Whittle was yet another in a 5,000m race in Manchester as she clocked 15 minutes 39.47 seconds to get inside the 15.45 required.
The tally of athletes who have achieved at least one standard so far stands at 28, plus the Scotland 4x400m women's relay team.