Masters 2013: Paul Lawrie feels benefit of resting before Augusta
Last updated on .From the section Scotland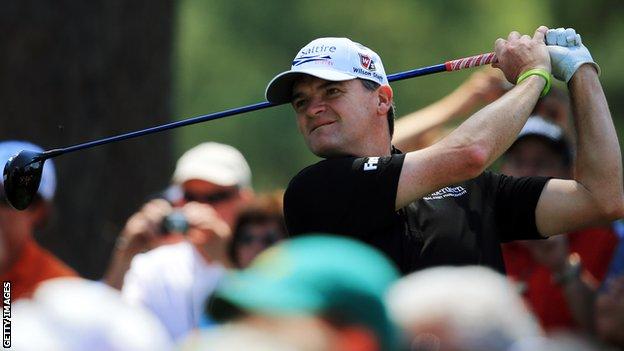 Scotland's Paul Lawrie feels his game is in good shape despite being hampered by injuries in the build up to the season's first major - the Masters.
The 1999 Open champion will be playing at Augusta for the seventh time.
Lawrie said: "I've been struggling a bit with back and neck injuries, so I took some time and didn't play at all for three weeks.
"But I hit the ball great today - best I've hit it for months, so you just don't know how you're going to be."
The 44-year-old, who was part of Europe's successful Ryder Cup team in 2012, is one of three Scots in the field at golf's first major of 2013.
Sandy Lyle, who famously won in 1988, qualifies as a past Masters champion, while Martin Laird earned his third consecutive Masters invitation by winning the Texas Open on Sunday.
Lawrie said: "Four weeks is a lot of time off I suppose, especially for a tournament like this, where greens are quick and it's kind of tricky to get the ball round, but we're looking forward to it.
"It was more rest than anything else that I needed. I've been really busy - here, there and everywhere and flying a lot.
"It just catches up with you and now and again you need three or four weeks to just down tools and not do an awful lot.
"I tend to play a lot in spells and then take a lot of time off in spells, so my schedule's a bit different from a lot of people. That's what works best for me."
Lawrie, whose best Masters finish came in 2003 when he tied for 15th, believes he knows the key to doing well in Georgia.
"It's always pace and speed around here, especially with short game and chipping," he added.
"You can be aiming 15-20 feet away from the hole on some of these greens out here, so there's a lot of long putting practice like I've always done when I come here.
"It's all about that, this course, it's always been about that - where not to go and to get the speed right with the short game.
"The Masters has got great history; obviously you can see the crowds, the sun's out, it's the first major of the year - it's an awesome event."