Dunfermline: Pars United strategy group formed to save club
Last updated on .From the section Football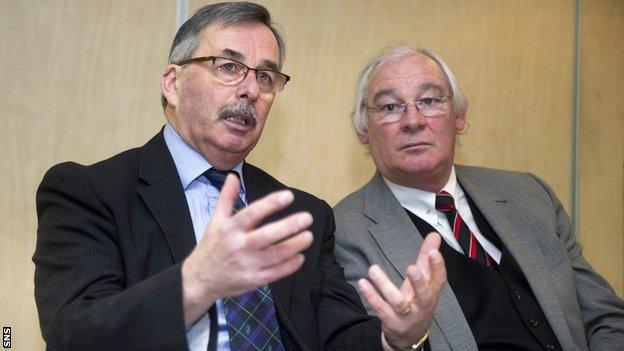 A new strategy group called Pars United will aim to "mobilise a community" to save Dunfermline, who have applied to go into administration.
The group was formed after a meeting of supporters' groups, former directors and other interested parties on Monday.
Pars United will be the liaison point with club administrators PKF headed by interim administrator Bryan Jackson.
And former manager Jim Leishman says fans and businessmen have pledged £100,000 to help save the club.
"All the people have come together to work together and we have formed a strategy group," said Leishman, who is urging fans to turn out in numbers for Saturday's home match against Hamilton.
Dunfermline owe around £8.5m to majority shareholder Gavin Masterton and other parties.
And the club, which has made and redundant, have until 11 April to demonstrate it has sufficient finances to be granted full administration.
Bob Garmory, of the club's main sponsors the Purvis Group, is confident the East End Park outfit will make it through to the end of the season, before embarking on a longer-term strategy.
"The bigger issues are not forgotten about, they are parked at the moment to facilitate us in our 'Save the Pars' campaign," he explained.
And, asked if liquidation would perhaps be the easier option in the long run, Garmory replied: "We don't really want to see the club liquidated.
"Would it have been easier? I don't think so. I think we truly have a good opportunity with Bryan Jackson and his team of pulling this back from administration.
"Our long-term goal is to have sufficient resources available to us so that when Bryan says, 'here's the football club' the Pars fans are in a position to respond to that.
"There is also the long-term capitalisation of the club. Is that going to be built around one owner, which we have had, or is it going to be multiple owners?
"We have to get that road map sorted out. It's not about getting out of administration and then going back to the way it was run before.
"We do know there has to be a different way."