Golden Scots: 'Duggie' Stewart, war hero and Britain's only gold at Helsinki in 1952
Last updated on .From the section Scotland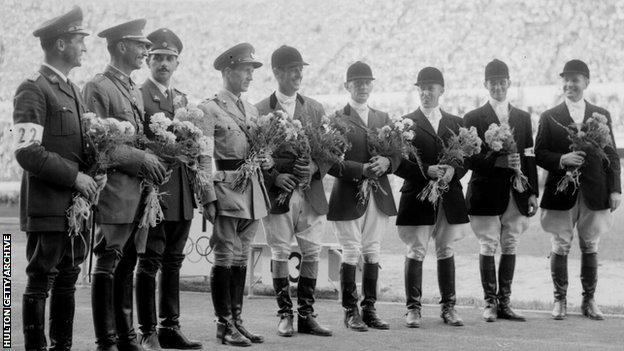 When he won Olympic gold in 1952, 'Duggie' Stewart was an officer with the Royal Scots Greys, a cavalry regiment with a long and proud history.
'Austerity Games'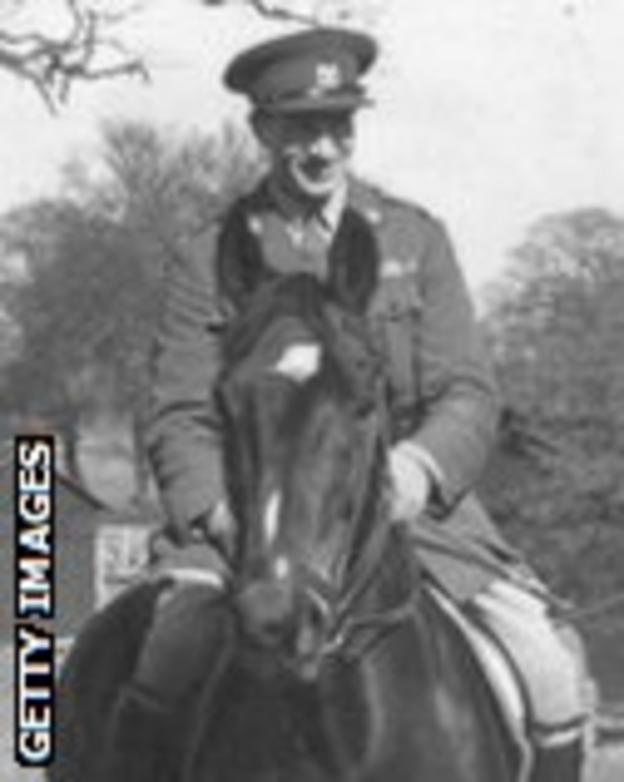 Born in Ayrshire in 1913, Lieutenant Colonel Douglas Stewart, MC DSO (fourth from right, above) was educated at Rugby School and Sandhurst Royal Military Academy.
On leaving Sandhurst, Stewart joined the Greys and served with distinction until 1952.
His first Olympic appearance was at the 'Austerity Games', held in London in 1948, shortly after the end of World War II, where he competed in the eventing.
He is recorded as a 'did not finish', having been eliminated when his horse, Dark Seal, became lame during the cross-country stage.
Helsinki 1952
The three disciplines of dressage, eventing and showjumping have been a part of every Olympic Games since their introduction at Stockholm in 1912.
For the 1952 Helsinki Olympic Games, Stewart switched from eventing to jumping, competing individually and as part of the Great Britain team.
In the individual event, Stewart and his mount, Aherlow, finished 12th.
In the team, or 'Prix de Nations' event, he competed alongside one of the best-known showjumping partnerships of the era, Sir Harry Llewellyn and Foxhunter. Rider Wilf White on Nizefela completed the three-man team.
The Prix de Nations was scheduled for the final day of the Helsinki Games and was described as 'unforgettable' in the official report.
The course, laid out in the Olympic Stadium, seemed to be relatively simple, but called for technical and tactical skill by riders from the 15 nations who had entered teams.
"The contest was exceptionally eventful and rich in excitement," states the official report.
"The morning, with the dew still on the grass, brought both startling falls and spirited jumps."
After a highly-contested morning session, the USA had taken the lead, with Portugal, Argentina and Brazil in close contention.
The afternoon session began in an atmosphere of 'breath-taking excitement'.
By now, France and Chile had also moved into contention. Sir Harry Llewellyn on Foxhunter was the final rider in the GB team. Despite the huge pressure, he succeeded in holding his nerve and recorded a clear round.
After a day of suspense, the Great Britain team had claimed what was to be Britain's only gold of the 1952 Olympics. Chile took silver and USA bronze.
After Helsinki
In 1971, the Greys were amalgamated with the 3rd Carabiniers to form the Royal Scots Dragoon Guards.
Stewart's gold medal can be seen in their Regimental Museum, situated within the walls of Edinburgh Castle.
Following his retirement from the army, Stewart became a farmer at Banbury, in Oxfordshire.
Douglas Stewart died near Selkirk in the Scottish Borders in July 1992.
Golden Scots
Find the stories of other Golden Scots via this link.