Scotland start World Cup campaign at home to Serbia
Last updated on .From the section Scotland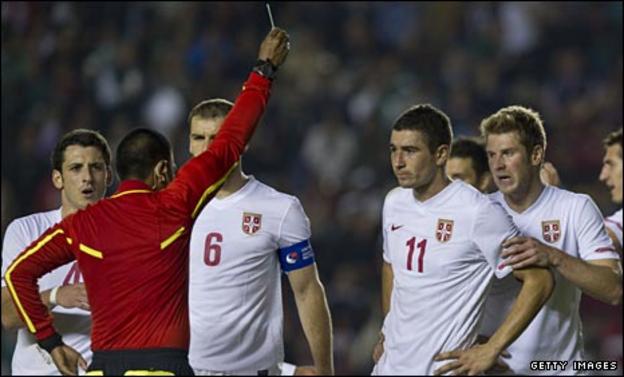 Scotland will begin their 2014 World Cup Group A qualifying campaign with two home matches, against Serbia and Macedonia in September.
The Serbs are the visitors on 8 September, with their Balkan neighbours the opposition three days later.
Scotland's two matches against Wales are earmarked for Friday evenings.
The Scots negotiated Friday home fixtures on 22 March 2013 against the Welsh and 6 September with Belgium when the six associations met in Brussels.
Both dates are officially listed as being subject to police approval, but a Strathclyde Police spokesman has told BBC Scotland that it will relax objections that have prevented major domestic fixtures being played on Fridays.
"Like everyone in Scotland, we want Craig and the boys to qualify for the World Cup," said Assistant Chief Constable Campbell Corrigan.
"In general, we can't support big, high-profile matches on a Friday night.
"However, in these exceptional circumstances, we are happy to co-operate."
It leaves only one Saturday fixture during the campaign and that comes right at the start, against the Serbs.
The Scottish Football Association has been in talks with Strathclyde Police over the last few months as international football moves to a preferred Friday and Tuesday evenings to give players more time to recover for their club sides the following weekends.
SFA chief executive Stewart Regan told BBC Scotland he was hopeful that Friday fixtures would get the go-ahead for Hampden Park.
"It's not a done deal yet, but I am positive that we will have the right outcome," he said.
"Obviously we went in to the meeting aware of the potential difficulties in negotiating while not being allowed to play on a Friday night.
"But, after positive discussions with the police, they have given approval for us to play on a Friday, which is a huge help to Craig in terms of giving the squad extra recovery time between games in a double header."
There had been reports prior to the meeting that Balkan rivals Croatia and Serbia would fail to agree fixtures, which would lead to the dates being decided by computer.
But Regan revealed the Scots and Croats had struck a deal over their fixtures. The 7 June visit to Croatia has been provisionally agreed for a 2100 GMT kick-off.
Slaven Bilic's top seeds and group favourites are the opponents for Scotland's final fixture, at home on Tuesday 15 October 2013.
"You can't have everything you want. In an ideal situation we would have avoided going to Croatia in June, but that was the final piece of the jigsaw and the last fixture to be agreed," he told BBC Scotland.
"Craig compromised with Slavin Bilic, the Croatian national coach and said he would take that fixture on condition that we could have Croatia at home as the very last fixture, and that we didn't have at match immediately before that on October 11, and that the Friday kick off in Croatia was as late as possible."
Scotland coach Craig Levein said: "It was tense, fraught at times but enjoyable and ultimately we are very pleased with the outcome.
"At various stages, we thought we had reached agreement, but then negotiations broke down again.
"You could write a book about some of it. From our point of view, we got most of what we came for: two home games to start the campaign with, at least one Saturday afternoon kick-off at home for the sake of our supporters and a home game to finish with.
"Obviously playing Croatia in June was the one concession, but with an evening kick-off I was prepared to make that sacrifice in order to protect our other wishes."