Levein ponders Scotland team selection in Cyprus
Last updated on .From the section Scotland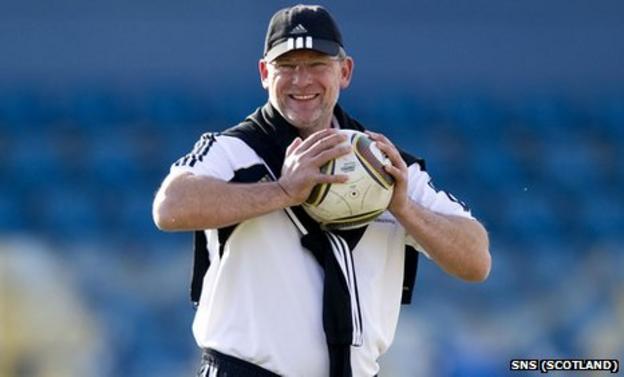 Scotland coach Craig Levein has not ruled out experimenting in Friday's friendly with Cyprus, but regards winning as more important.
A number of call-offs led to Levein calling up several uncapped players.
"We want to win the game so we'll do the best we can to win the match," Levein told reporters.
"I'll put out a team that aligns with that way of thinking. There's always an opportunity for experimenting but not at the expense of winning the match."
Huddersfield striker Jordan Rhodes is one of those players seeking his first full international cap and he'll be competing with Kenny Miller, Craig Mackail-Smith, David Goodwillie and Jamie Mackie for inclusion.
But Levein is likely to continue with a lone frontman system from the start in Larnaca.
"I'm comfortable with the system," said Leveing. "Going into the second half I might have a look at playing two strikers. We'll see how the game goes.
"I don't want to experiment at the risk of throwing away any chance of winning the match.
"We're in a better position now with regard to strikers with more strikers available.
"Certainly, Craig Mackail-Smith proved in his last couple of games for us that he's an international class player and capable of playing at the highest level.
"David Goodwillie's played some games for us, we've got Jordan Rhodes in the group, his record in England just now is fantastic. He's trained well and I feel he'll be an international player as well.
"We're getting a little bit more strength in depth in a number of areas on the field buit particularly the striker area."
Levein was keen to use the international date despite Scotland missing out on the Euro 2012 play-offs, the first legs of which also take place on Friday, and regards Cyprus as a good level of opposition.
"It's the experience more than anything else I was looking at, trying to get some time training and getting to know the players and work with them and get some quality time on the training ground," said the former Dundee United manager.
"I've found that to be as beneficial as the games.
"The game tied in quite well with being able to do some stuff on the training ground and on top of that it's another opportunity to test ourselves away from home.
"I've watched the last six games that Cyprus have played. Technically, they're a very good side, an attack-minded side.
"I see it as another opportunity for us to get the players together and see if we can get a positive outcome."
Scotland's World Cup qualifiers for the 2014 finals in Brazil begin in September and Levein indicated how he plans to get the squad ready for that campaign.
"I don't know if it's 100% confirmed but I think we're going to Slovenia in February and we're in Austria for a week at the end of the season," he said.
"We will play one game in August and then we'll be into the qualifying campaign for the World Cup.
"It's up to myself and the players to be 100% prepared for next September."
Meanwhile, Levein says it is "unlikely" he would ever pick a squad made up exclusively of players based outside Scotland.
The pool that travelled to Cyprus contained only four Scottish Premier League players, with the bulk of the squad playing their domestic football in England.
"You have to remember that [injured Rangers forward] Naismith would've been included, [injured Celtic captain] Scott Brown would've been included, [injured Celtic winger] James Forrest would've been included," added Levein.
"The Old Firm will continue to be big supporters of the Scottish team and provide players for the Scottish team.
"The lack of money in Scottish football has also led to a lot of younger players getting opportunities to play on a regular basis in the SPL and I see a time in the very near future where there are more players coming from the SPL."