Craig Levein backs Scottish youth to flourish
Last updated on .From the section Scotland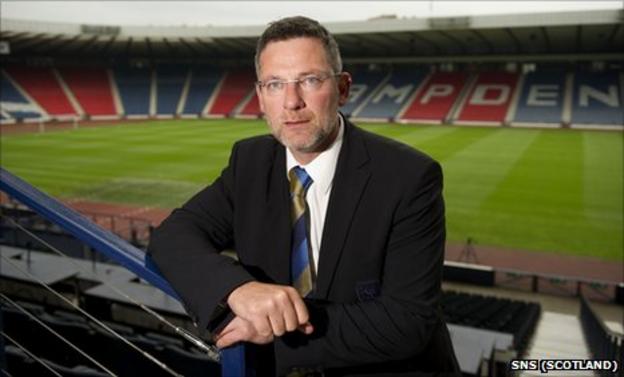 National manager Craig Levein believes young Scottish players should be taking advantage of clubs' lack of financial resources.
"There has never been a better time to be a young Scottish football player," said Levein.
"There are far more opportunities for the younger players than there have ever been.
"That's the area where the Scottish FA can help, we can help develop players and that's what we intend to do."
With no representatives on the European stage after August for the first time, Scottish football is in a bleak introspective mood.
But Levein told BBC Radio 5 Live: "I believe we've hit the bottom and we're on the way back up."
Levein's 25-man squad for next month's Euro 2012 qualifiers against the Czech Republic and Lithuania at Hampden includes just five Scottish Premier League players.
And, while desperate to witness an improvement in the domestic game, he is more than happy to see the best players leave Scotland to play at a high level elsewhere.
"The aims for players are incremental," he explained. "You start off wanting to get into a team, then you want to go to a bigger team and eventually, if your talent allows, you end up playing at the top level.
"We have 12 players in the squad who are playing in the English Premier League. There is nothing wrong with that.
"Going back to the halcyon days of Scottish football, when Kenny Dalglish and Graeme Souness and all these guys were playing, they were playing in England, they were playing in top teams in England.
"That therefore meant the national team in Scotland was of a standard where we were able to compete.
"No disrespect to the Old Firm or any team in Scotland but I want our best players playing at the top level, wherever that is in the world, to allow the national team to be as strong as possible.
"Four or five years ago, we had three players in the English Premier League, now we have 12 and that makes my job a little easier."
Looking ahead to the crucial Hampden double-header, Levein reiterated the need to win both games to have a chance of claiming a play-off place.
"From the outset, our intention was to win our home games against our nearest competitors," he explained.
"I think we need to win our next three matches and, as long as Spain don't lose to anybody, that should be enough for us."