Henry McLeish urges quicker progress on reform of Scottish game
Last updated on .From the section Scotland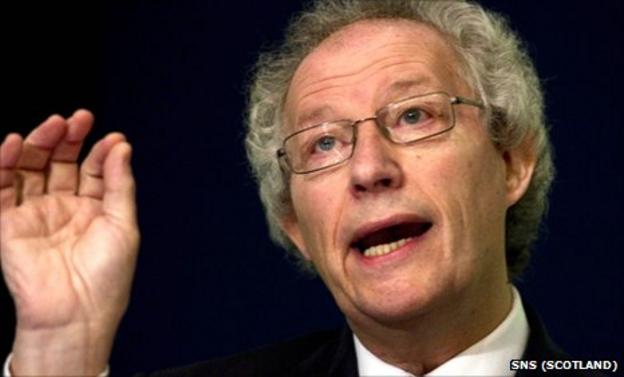 Former first minister Henry McLeish has called for accelerated progress on his plans to reform Scottish football.
"Hopefully what Thursday night will have done is to inject a new urgency into what we're doing," he said.
"Progress is being made and we're in this for the long haul."
For the first time since the inception of European club football, no Scottish side will be involved in any competition beyond the month of August.
On Thursday Hearts drew 0-0 with Tottenham but lost 5-0 on aggregate, Celtic suffered a 3-1 defeat away to Swiss Cup winners Sion after a goal less first leg in Glasgow, while Rangers drew 1-1 at Ibrox to lose 3-2 on aggregate to Slovenian champions Maribor.
Dundee United had earlier been knocked out of the Europa League after losing out on away goals to Polish side Slask Warclaw.
"What we need to do is put our foot on the accelerator," McLeish told Sportsound.
"Some people have still got to see a change in mindset.
"The two reports I produced have been warmly welcomed, but we need to accelerate the progress towards implementation and that requires buy-in from everybody who is associated with the game.
"Clearly we are a football-loving nation and the gap between our expectations and achievements has to closed.
"In view of the problems with finance and facilities the government have to play their part.
"But we the football community have got to be absolutely ruthless in pursuing this revolution.
"Without buy-in from the government and the private sector I fear that the necessary investment will not be forthcoming."
But speaking earlier today, First Minister Alex Salmond told BBC Radio Scotland that progress was being made.
"You have to go back to the grass roots and make sure the facilities are available which allow people to get the practice in which is required to bring through the next generation," he said.
"What we've been doing is spreading the 3G pitches round the country using largely the proceeds of crime - taking money from bad people and giving it to good people - which seems to me an excellent idea.
"That will pay off in the longer term.
"The most significant change affecting our clubs is a financial one.
"Whereas 20 years ago Rangers and Celtic financially were among the top clubs in Europe, now they are under pressure - and under those circumstances it takes exceptional managers and exceptional players - in terms of commitment - to compete. "