Darren Fletcher hopes Scotland draw England in World Cup

By Chick Young
BBC Scotland
Last updated on .From the section Scotland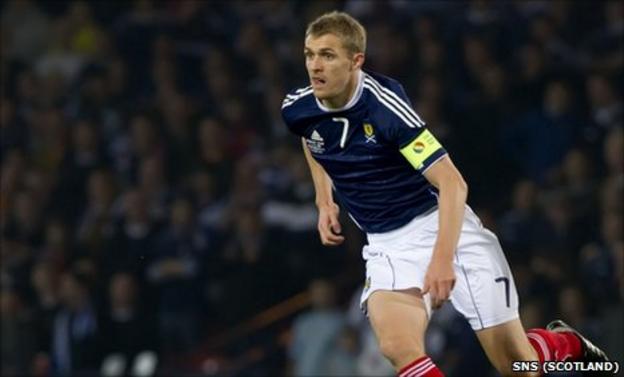 Scotland captain Darren Fletcher is hoping for a revival of the oldest fixture in international football when the World Cup draw is made in Brazil.
Craig Levein's team are in pot four for qualification for the 2014 finals and could be bracketed with England.
"I would love to play them," Fletcher told BBC Scotland ahead of Saturday's draw.
"It is not something I would be fearful of, rather it is time we were playing them again."
The Old Trafford midfielder was talking in an exclusive interview with BBC Scotland which you can hear on Sportsound on BBC Radio Scotland from 1400 BST on Saturday.
"It would mean some banter on the Manchester United training ground with guys like Rooney and Ferdinand - and maybe a couple solid kicks aimed at team mates, but I think it would be good for the Scottish players and fans. It would be a massive game for us.
"I remember the Euro play off at Hampden and Wembley in 1999 and it was fantastic to beat them, although we lost on aggregate to two goals from Paul Scholes."
Fletcher is on his way back to full fitness after a mystery illness ruled him out of Manchester United's run-in to the title.
"We never got to the bottom of what the virus was, but it knocked me back. I am hardly a person who can afford to lose weight, but I did, Now though I am fully on the mend, "he said.
"I missed the run in to the championship and a place in the starting line-up for the Champions League final.
"It was scary…but actually with the diet I am on now I am actually heavier than I was. I feel fighting fit and ready to go.
Fletcher is optimistic on the future for his club - where he has just signed a new fiver year contract - and Scotland.
"I believe we can get to the play-off. Every game is a must win and sometimes it is good when you know where you stand," he said.
"You dream as a kid of playing for your country in a finals whether it is World Cup or Euro and I would hate it if when it is all over I never featured in either.
"But there is no denying the draw could bring us a group of death. It is not good being in pot four, but circumstances, including bad results in friendlies, have brought it upon us. All these things add up.
"However, we are a good side. More and more of the lads are coming down to England and playing at the top level. When everyone is fit Scotland have a very good core of a team.
"Charlie Adam, for example, was outstanding last season.
"He is a talisman. Everyone is talking about him. He took the Premiership by storm."
Fletcher is on course to break Kenny Dalglish's record cap tally of 102, but insists it is not the number of appearances that counts, but the quality of occasion.
"When I represent my country I don't think about the number of caps, but about trying to qualify for finals. That's what counts.
"You look to every friendly as a build up to a qualifying match and that is why the match against Denmark is important.
"I don't go to friendlies just to add to my cap total. There is a huge point to these matches."