Olympic football not for Scotland's Julie Fleeting
Last updated on .From the section Scotland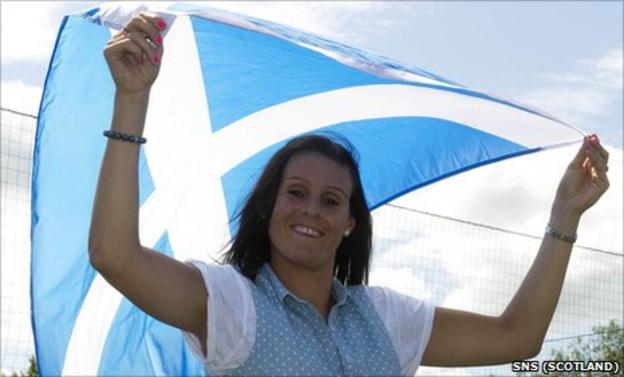 Scotland's record cap holder Julie Fleeting has ruled herself out of playing in a Great Britain football team at next year's London Olympics.
She is backing the stance of the Scottish Football Association, who believe any involvement could affect Scotland's footballing independence.
"I'm very proud to pull on the Scotland jersey," said Fleeting.
"There are kids striving to do the same and there's a chance that they won't get that opportunity if we became GB."
With 115 goals in 117 internationals, the 30-year-old Arsenal star would have been among the first names considered for a British team at London 2012.
But she will not take part and suggested that her fellow Scotland internationals would take a similar view.
"The SFA make all the decisions in terms of the national team and I would definitely not step out and say I would like to play for GB, I would not say that at all," she added.
"What I will say is that I would like to play for Scotland and, for as long as I'm selected, I'm delighted to pull on the jersey.
"That's the most important thing to me and I know that it's the most important thing to all the girls I play alongside.
"Obviously the Olympics is a fantastic stage but I am Scottish through and through.
"It might mean our girls would not have the opportunity to play for the national team in the future because some of us went to play for Team GB.
"That's not a risk any of us are willing to take."
The Scottish, Welsh and Northern Irish football associations have taken a dim view of this week's British Olympic Association statement that a "historic agreement" had been reached with the four home nations for a united GB team.
But SFA chief executive Stewart Regan has made it clear that no sanctions would be taken against any Scottish player who chose to participate.
Fleeting's Arsenal and Scotland team-mate Jennifer Beattie would like the chance to play but is reluctant to go against the wishes of the SFA.
"I think any player would love the opportunity to play at the Olympics," she told BBC Scotland. "It's probably the biggest thing in sport.
"But to have anything taken away from playing for Scotland or any opportunity for younger girls and boys coming up would be a major disappointment for the SFA.
"I wouldn't really want to go against anything the SFA would say or want me to do. They have done so much for players in Scotland that we would like to back them and what they think is best for our players in Scotland.
"In terms of thinking about the SFA and what they are saying, you have to take that into account.
"Down in the Arsenal camp, a lot of the England girls are talking about it already. But it's still a major dilemma for the Northern Irish, Scottish and Welsh."