Craig Brown warns against 'selfish' Scots in Team GB
Last updated on .From the section Scotland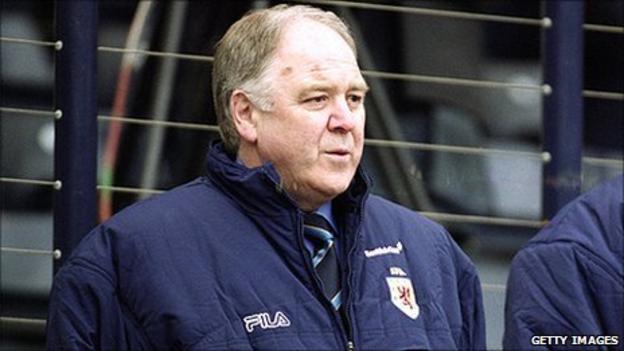 Former Scotland manager Craig Brown has criticised the proposal by the British Olympic Association to field a Great Britain team at London 2012.
And he urged Scottish players to think about the ramifications for future players if they represent Team GB.
"You could jeopardise your opportunity to play for Scotland. There might no longer be a Scottish team," said Brown.
"Are you going to put other players' possibility of playing for Scotland at risk by being selfish and playing?"
The Scottish, Welsh and Northern Irish football associations have taken a dim view of the BOA's statement that a "historic agreement" had been reached with the four home nations for a united GB team.
But Stewart Regan, the SFA's chief executive, stated that no sanctions would be taken against any Scottish player who chose to participate.
And Brown, now manager at Aberdeen, said: "I've no doubt that they should not participate in this at all because it is the thin edge of the wedge.
"Fifa would love to combine the four countries and make it a GB team.
"I have that on no less an authority than the late David Will, who was vice-president of Fifa.
"He warned me that Fifa would like to combine us, so we must retain the Scottish identity and have a Scottish international team."
In an interview on BBC Radio Scotland, Brown said he was wary of Fifa and its president, Sepp Blatter - and questioned the prestige of Olympic football, which is principally for players under the age of 23.
"The trust in Fifa is wavering," continued Brown, who managed Scotland from 1993 until 2001.
"There hasn't been a great deal of trust anyway, but recent events make it less trustworthy.
"Although Mr Blatter and his colleagues did say that this would be a one-off situation, I don't think many people believe that.
"Anyway, it is a nonsense to think that the football team is truly representative of the best players in Great Britain, because it is a discriminatory sport - there is an age limit in football that doesn't exist in any other sport in the Olympic Games.
"It's a distortion to make people think it is the ultimate tournament in football. The World Cup, the European Championship, even the World Under-20 Championship, are bigger in football."
The 70-year-old made it clear that he felt no connection with a Great British team.
"I would rather lose as Scotland than win as Great Britain," he added.
"I feel for our identity; I am very patriotic, as most football people are.
"It's far more important to play for Scotland than play for Great Britain.
"I don't think the players are missing out on anything. I think it is far better for them to stick to the Scottish team, play at Under-21 level and at national level for Scotland, both for the ladies' team and for the men's team, rather than get involved in the Olympic team."