Swimmer Hannah Miley's obsession with 2012 Olympic gold
By Phil Goodlad
BBC Scotland
Last updated on .From the section Scotland
"I want to know what it feels like. I want it."
Hannah Miley's obsession with chasing her Olympic dream has taken over her life.
Everything the Inverurie swimmer does, everything she eats, every moment she sleeps is structured around her bid for glory at London 2012. Just how much nobody can really understand until they've seen it up close.
But I now understand. I've just spend a day following Hannah and her gruelling training schedule. And, trust me, only the driven and supremely determined would and could do what she does on a daily basis.
0445 Breakfast number one
"I've been getting up at this time for so long now that it doesn't bother me anymore."
I'm sitting in Hannah's kitchen watching her devour breakfast. It's so early in the morning I can't even say breakfast, but there she is gulping down cereal and toast.
0520 Three-mile run
"Another day. At least it's Thursday and near the end of the week."
Hannah runs the three-mile distance to her local swimming pool. It acts as her warm-up ahead of the first Olympic training session of the day. What must this be like in the darkness of a north of Scotland morning? Naturally, I take the car.
0600 4.5 miles in the pool
"Well, here we are in my office again."
Like a well-oiled machine, Hannah slips into the pool and begins yet another session in the water. The sight of the 400m IM European and Commonwealth champion sharing a lane with club swimmers is simply surreal. Do they not know who she is?
0820 Breakfast number two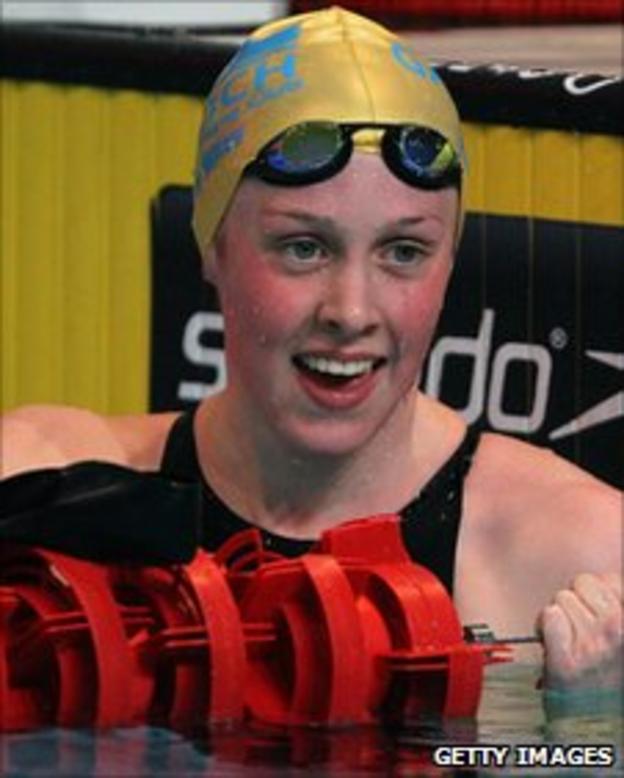 "I need 4,000 calories to sustain my training schedule, so eating is very important."
Having got up so early, my body clock is all over the place. Hannah's is like clockwork. Her second breakfast of the day sees her gobble up eggs, pancakes, cereal, yogurt and toast, covered with lashings of full-fat butter and dripping with thick honey. Perhaps Hannah anticipates my questions - "Don't worry, I burn it all off."
0900 Sleep
"If I don't get any now then my body begins to struggle later in the day."
After a three-mile run, 4.5 miles in the pool and two breakfasts, it seems natural to go for a snooze. This is what I tell myself back at the hotel I'm staying in just five minutes down the road from Hannah's house. Well, if it's good enough for an Olympic athlete……
1020 University
"It's sometimes good to focus on my studies - it takes my mind off swimming."
We're now in the car driving to Robert Gordon University, where Hannah is studying Sports Science. A two-hour lab beckons. You wouldn't think training 36 hours per week would leave much time for her degree. Along with swimming, though, time management is something Hannah also excels in.
1210 Swimming
"At least I get to swim in my own lane."
Another 4.5 miles in the pool for Hannah. I hate to say it, but one could get a little bored if you had to watch this day in, day out, so heaven knows what it's like to do. I remember Hannah's reason for doing it - "I want it (Olympic gold)!"
1420 Lunch
"I like yum-yums."
This time, a cheese and ham toastie AND yum-yum dripping with sugary icing is the fuel of choice. I'm beginning to think the Olympic diet isn't all that bad. But the pain that will block out all the joy of a yum-yum is coming.
1515 Physio
"That REALLY, REALLY hurts."
Hannah Miley is wriggling in pain. A glass bell is sucking a lump of flesh on her back a horrible shade of puce. It's been attached by a suction pump. It looks as brutal as it sounds. It's to release pressure on Hannah's back. It leaves a horrible bruise. I don't begrudge Hannah that yum-yum any more.
1645 Downtime
"All pretty normal really."
Training is over for Hannah. After another big meal, evenings are to do with what she wants. It comes as no surprise that she's too tired to do much. After the day she's endured, why would you want to do anything else?
2030 Bedtime
"It's one of my favourite moments of the day."
After structuring the whole day chasing her Olympic goal, Hannah now goes to bed dreaming of it.
As for me, well my 0430 start means I sleep well. A little in awe of Hannah Miley, the utterly likeable, down-to-earth Aberdeenshire girl with one of the strongest wills and determinations I have ever come across. July 28 2012 is when we'll find out who'll win the 400m women's individual medley. Hannah is thinking of nothing else.