SFA moving on right track, says outgoing president Peat
Last updated on .From the section Scotland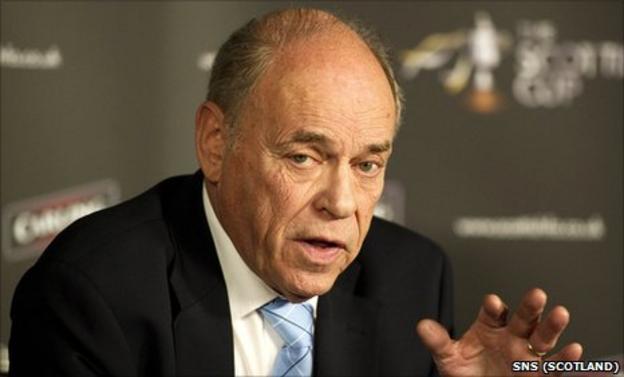 Departing president George Peat believes he is leaving the Scottish Football Association in good shape.
"It's a modernisation of the whole organisation," said Peat, who will step down next week.
"The whole purpose of the project was to improve the workings of the SFA, from a governance point of view and the coaching side of things."
Peat, who assumed the presidency in 2007, was instrumental in commissioning McLeish to undertake a comprehensive review of Scottish football.
"I felt we badly needed an outsider to come in and look at the place and it was my idea to bring Henry in," Peat told BBC Radio Scotland.
"We have still to appoint a performance director. But we are starting to put through the changes on the corporate governance side of things."
Peat is also optimistic that Scotland are on course to reach a World Cup or European Championship for the first time since 1998.
"The one thing I wanted more than anything else was to qualify for a major tournament," he continued, reflecting on his time in office.
"We came pretty close [to reaching Euro 2008] with the last game against Italy when Alex McLeish was there, having taken over from Walter Smith, who had turned the place round.
"The campaign following that [under the stewardship of George Burley] was obviously a big disappointment because we didn't at least reach the play-offs.
"I'm hoping that under Craig Levein things will be turned around and the one thing for sure is that the next time the European Championship comes round, we will qualify because there is going to be an increase in the number of participants to 24.
"Craig has been working hard to create a club atmosphere with Scotland. There was only one call-off for the Carling Nations Cup in Dublin and he was disappointed with that."
Peat has attracted considerable flak throughout his tenure and clashed with Celtic repeatedly over the last two seasons.
"The impression they gave was that everyone was against them," was Peat's take on events.
"I've had a couple of meetings with chief executive Peter Lawwell this last season where we've sorted things out and things have gone well. After the first one, unfortunately, the club had their agm and the chairman spoke and blew out of the water everything Peter and I had agreed.
"John Reid was asking for the SFA to have a good look at itself.
"I thought he knew perfectly well that we were doing that. Henry McLeish had been working for over a year at the time and his report was imminent. That was a wee bit annoying because everyone knew we were in the process of reform.
"After another recent meeting, Mr Paul McBride [Celtic manager Neil Lennon's legal representative] got involved and starting stirring things up about the SFA.
"Peter was well aware of what we were trying to achieve at the SFA and agreed with the route we were going down."
Last season saw an unprecedented withdrawal of labour from referees, angry at a lack of support from the SFA and fears over personal safety as a result of public criticism from managers.
"I honestly thought the referees' thing was lamentable," said Peat. "There was far too much complaining.
"The integrity of referees was questioned, officials were also unhappy with some of the sanctions being imposed on managers by the SFA.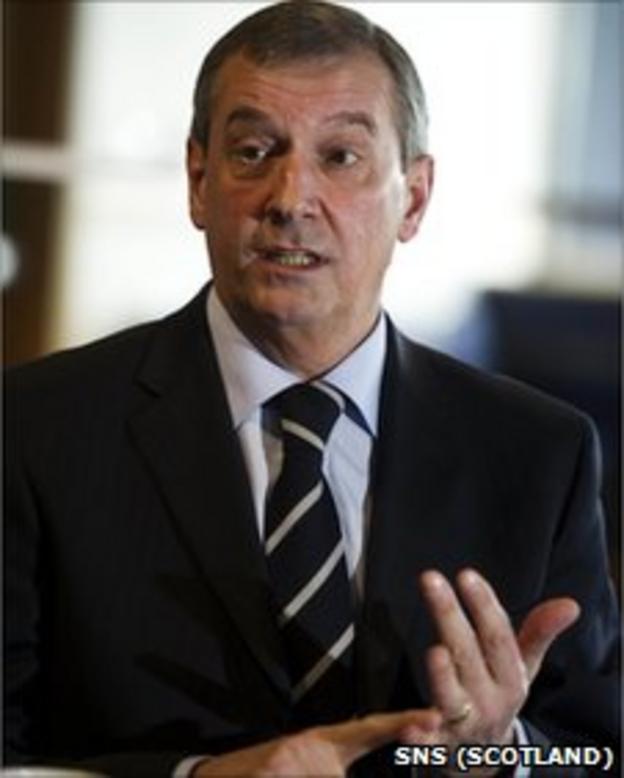 "I said I would sit as an observer on the general purposes committee and the disciplinary committee.
"There was nothing controversial. I took no part in the decision-making process."
Celtic were again outraged when Peat appeared at Lennon's hearing when the Celtic boss was given a six-game touchline ban for excessive misconduct during a game against Hearts in November.
Peat's attendance was held to be "contrary to principles of fair play" in a judgement from Lord Carloway after an appeal from Celtic.
"What people don't realise is that there was another manager sanctioned at that hearing but I got all the publicity because I sat in on the Neil Lennon case," Peat explained.
"A certain legal representative of Neil Lennon's then came out in the press and indicated that I shouldn't have been there. As if I had some Svengali-type of influence over the rest of the committee.
"I was perfectly within my rights."
Speaking in March, SFA chief executive Stewart Regan said he feared it may take a generation to completely eradicate sectarianism from Scottish football.
And Peat acknowledges that the authorities face a difficult task.
"Having been born and brought up in the west coast of Scotland, I was well aware of what sectarianism is," he said. "I honestly thought things were well under control but it has exploded again recently.
"I know Rangers and Celtic have tried very hard to eliminate what they can.
"A lot depends on what First Minister Alex Salmond is going to come in with, legally-wise, to see what we can do.
"It's a sad fact of life that it's still prevalent."