Halfway weigh-in for 'Football Fans in Training'
By Paul Bradley
BBC Sport Scotland
Last updated on .From the section Scotland
FFIT, Football Fans in Training, is an initiative from the Scottish Premier League Trust that aims to address the health problems of Scotland's unfit males. I'm taking part and sharing the results as I go.
It was a slightly nervous bunch that gathered round the scales in the players' lounge of Celtic Park, none more so than myself, as we all anticipated the result of six weeks of hard work and denial.
It was actually pretty funny as none of the lads touched the tea or coffee on offer, most disappeared to the loo before the weigh-in, and more than one considered getting down to their undies, boxer-style!
No-one was willing to predict any weight loss, in that typically Scottish understated manner, but I bet secretly, like me, they all hoped the numbers on the display would be kind.
And thankfully they were, even with me fully clothed and wearing a battery pack for my radio microphone (they're really heavy!)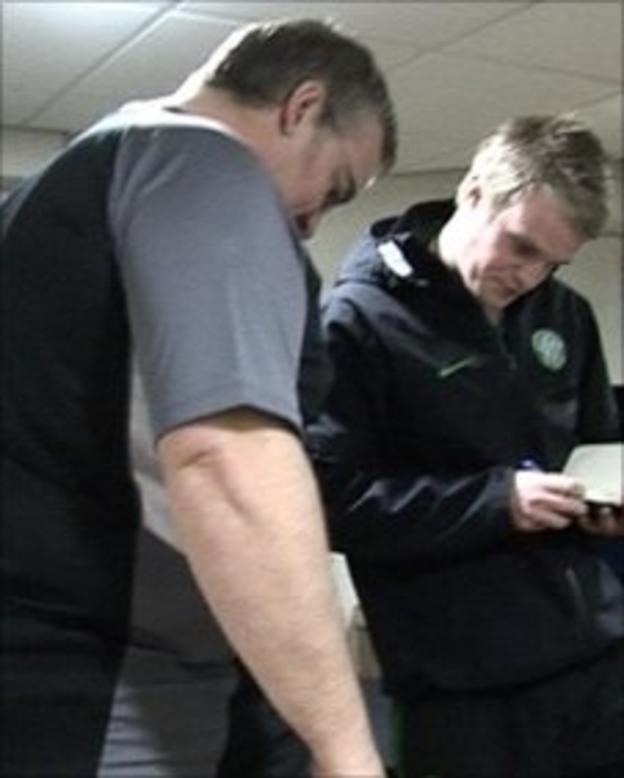 So what was the result?
After six weeks of the programme I had lost 4.1kg, almost nine pounds in old money, so I was fairly pleased.
I must come clean about something at this point. I've actually been trying to lose weight for around 18 months and had reached a stalemate.
I had lost around five stones, which was ok, I suppose, but I had definitely hit what was effectively a brick wall.
The FFIT programme has really knocked that wall down for me.
In this week's video diary, Dr Cindy Gray explains a psychological model called the 'Stages of Change' model. Put in my lay-man's terms, it's the thought process of getting from one awful stage in your life into a better one.
Thankfully Dr Gray is not a lay-person and knows what she's on about.
She said: "You start off thinking about making some changes, and let's be honest, just because you think about it, doesn't mean that you are actually going to do it. Once that decision has been made, for whatever reason, you are then ready for change.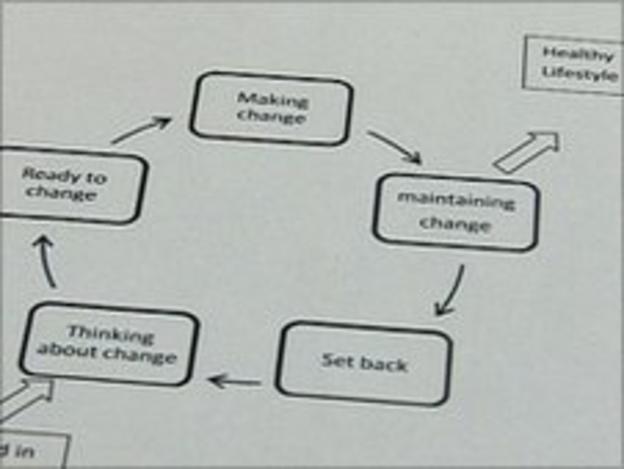 "Next you actually make some changes, the kind of things that you and your fellow trainees have been doing on the FFIT course," said the research fellow from the University of Stirling.
For me and the rest of the guys these changes manifest themselves in terms of increased exercise, taking the advice on portion control, following suggested meal plans, paying attention to the ever-nagging pedometer and, perhaps most of all, gaining strength from the support of the group.
In doing all this I've had a real boost in my road to recovery. Because recovery is exactly what's needed, as far as I'm concerned.
I have made a real mess of my body, and let's be clear - there is no-one but myself to blame for my original 28-stone physique!
I don't know if it helps to share this, but I sometimes feel very ashamed. And I'm pretty sure I won't be alone in those feelings. It's also the reason that I get very embarrassed when people comment on how good I'm looking or about the weight I've lost.
Don't get me wrong, I'm extremely grateful that people take the time to care, and I suppose I'll get used to the wolf-whistles from the girls!
I guess what I'm getting at is it's alright to feel ashamed or embarrassed and, believe me, it gets better when you've made the decision to do something about it.
Dr Gray told me: "The next step once we've made our changes is keeping them going. We enter the maintenance phase and the realisation that we're going to have to keep our lifestyle changes going can be a bit of a shock.
"We can also fall off the wagon from time to time and the important thing to remember is that just because we've let things slip, it doesn't mean that we have to stop altogether, you can always climb back on and try again."
That was reassuring.
It's been quite a comfort to know that you don't have to be some sort of superhuman being to get on the road to health and that making and maintaining these changes will end up with positive results.
It has not all been good news, however.
This week has been a really tough one as I injured my knee after playing football with the lads from Motherwell.
The only reason I mention this, really, is that it is a common issue for "big guys". I've been putting a lot of strain on my joints and it can be a problem to exercise.
With the help of a great physiotherapist, Graeme Watson, I've been able to get back to walking and he's keen to get me back exercising as quickly as possible.
And you know what? I'm really looking forward to it.