SFA threatens lawyer Paul McBride with legal action
Last updated on .From the section Scotland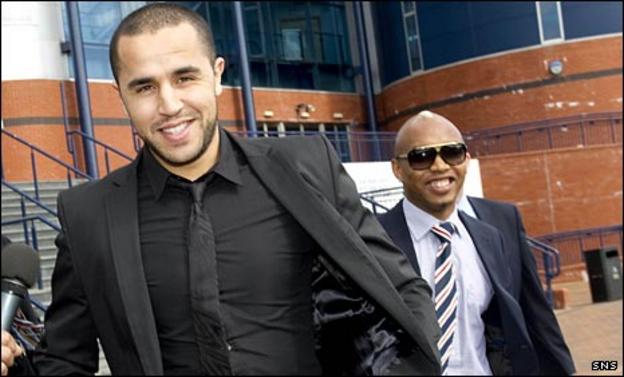 The Scottish Football Association is considering legal action and accused lawyer Paul McBride of "inaccurate" and "defamatory" remarks.
McBride described the governing body as "dysfunctional", "dishonest" and "biased" after its handling of disciplinary cases involving Rangers.
The QC recently represented Celtic boss Neil Lennon in a related case.
And, responding to the SFA, he said: "I intend to ignore the statement because it's frankly just stupid."
Lennon decided against appealing against a touchline ban imposed following a confrontation with Rangers assistant manager Ally McCoist at the end of Celtic's 1-0 Scottish Cup replay win on 2 March.
But McCoist successfully challenged his two-game suspension, while Rangers players Madjid Bougherra and El Hadji Diouf avoided further bans after being sent off during a stormy encounter.
McBride told BBC Scotland in a strongly-worded interview of his dismay at the decision to uphold McCoist's appeal and to simply fine the players.
The SFA declined to comment immediately, but 24 hours later it has said it is "shocked and angry" at coverage in newspapers following the BBC interview.
"We note that Paul McBride does not act on behalf of or as a spokesman for Celtic FC, its manager, or anyone associated with the club," said chief executive Stewart Regan.
"In making his unjustified and inflammatory remarks, Paul McBride appears to be acting as a self-publicist and not as a QC.
"Paul McBride's wild and inaccurate statements are defamatory and appear to be malicious.
"The Scottish FA is now considering, with the benefit of legal advice, whether to sue just Paul McBride for damages or whether to also sue other parties.
"A formal complaint is being made to the Faculty of Advocates with respect to the way in which Paul McBride has allowed himself to be held out as making comments to the media in his capacity as a QC.
"We are aware that many observers and members of the public would appreciate clarity on the decisions made at yesterday's meeting of the disciplinary committee.
"It would be inappropriate to comment publicly on committee decisions until the seven-day time frame for any appeal has elapsed."
However, McBride hit back following the SFA's statement.
"In the unlikely event that they were mad enough to take legal action against me and apparently every media outlet they say who has printed what I've said, then I would look forward to vigorously defending my position," he told BBC Scotland.
"The comments I made about them were fair, they were accurate, they were in the public interest.
"The public would be interested, in the unlikely event of this going to court, in seeing behind this inept, incredulous and Neanderthal organisation.
"I, as an advocate, am not allowed to speak on behalf of a client - whether it be Celtic or whether it be Neil Lennon.
"I am allowed as a member of the public and an individual, who happens to be a Queens Counsel, to comment on any matter legally as I see fit.
"I have a particular knowledge of how the SFA works, or in fact doesn't work.
"I think I'm entitled as an ordinary member of the public to make my views clear, as have today, journalists all over the country and people involved in various phone-ins - including Kenny Clark, a former Grade One referee.
"He said tonight their decisions where incompetent and he envisioned the possibility of Grade One referees going on strike."