Chris McLaughlin's La Manga diary
Last updated on .From the section Scotland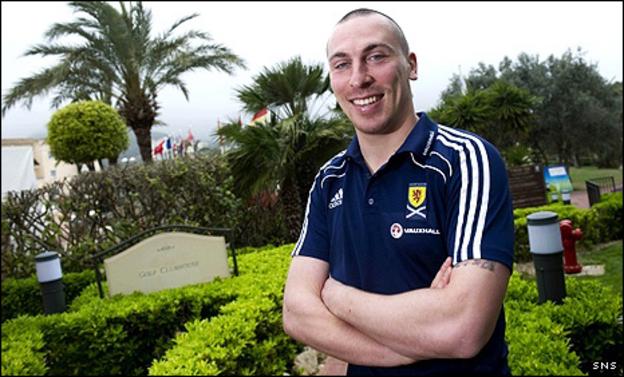 As any social networking junkie will tell you, Twitter is fairly addictive. Just ask Charlie Sheen and his millions of followers.
For a journalist, it is also pretty informative.
Players, football clubs and fans all frequently fill their allotted 140 characters with rants and quips.
Yesterday, though, the said site unwittingly did me a huge favour and delivered a crushing blow to those who believe my time with the Scotland squad here in La Manga has been all play and no work.
I have had numerous tweets from football fans who have questioned the need for me to be here at all. A "jolly" is the word most frequently used.
So, with that in mind, I must give my thanks to the SFA media officer who took a sneaky picture of me on my hands and knees at the Scotland training session yesterday.
The simple snap shows me, video camera in hand - all in an effort to get a good shot of the lads for Reporting Scotland. Now that is dedication, surely.
Quite why he decided to take the picture and then tweet it in the first place, is another question altogether.
I would also like to think that if Alexander, the La Manga Club shuttle bus driver, follows the SFA on Twitter, he now knows why I load bags, cameras and tripods into his little van numerous times a day.
Alexander is one man who knows my trip here is far from a jolly. It's not been a jolly for the players either, to be fair.
Yes, they've enjoyed a few days of relaxation and golf but the serious stuff has started and not one looked out of shape through the lens of my trusty camera on training day one.
They have enjoyed a few beers at night, but it's been more chicken and rice rather than pizza and chips at the dinner table.
To be honest, they actually looked happy to be kicking a ball around again. The laughing and joking continues but there is also an edge.
A place in the side to face the Samba stars of Brazil is at stake, after all.
Craig Levein said before this trip that he wanted just the right mix of time off and training and so far, it appears he has got it right. He also suggested that this week could ultimately be more important than the match itself.
Being here, it is easy to see why. A picture of a young, talented, hungry squad is beginning to develop and that is one the SFA would love to tweet.
You can follow Chris on Twitter.