Tokyo 2020: Hannah Mills and Eilidh McIntyre win silver as GB finish with six medals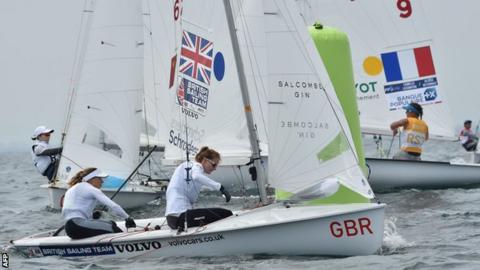 Great Britain finished the Olympic test event with three silver medals and three bronze after the final day was cut short because of a lack of wind.
Olympic champion Hannah Mills and team-mate Eilidh McIntyre won silver in the Women's 470 class, but the rest of Thursday's medal races were cancelled.
Giles Scott was third in the Men's Finn standings so earned a bronze at the regatta in Enoshima, Japan.
"We didn't win but a silver medal at a test event is epic," said McIntyre.
Mills and McIntyre, who won the world title in Japan earlier this month, were second in the Women's 470 class overnight and came fifth in the medal race.
The French pair of Aloise Retornaz and Camille Lecointre won it to clinch gold, adding to the bronze they won at the World Championship.
McIntyre added: "Our biggest goal this year has been to be in with a chance to win every regatta and here we were within one point going in to the medal race."
Scott said: "It's a little bittersweet. It's good to win a medal but the back end of the week didn't go well for me. It's disappointing not to be able to go out and attack today."