Route du Rhum: Alex Thomson loses out to Paul Meilhat
Last updated on .From the section Sailing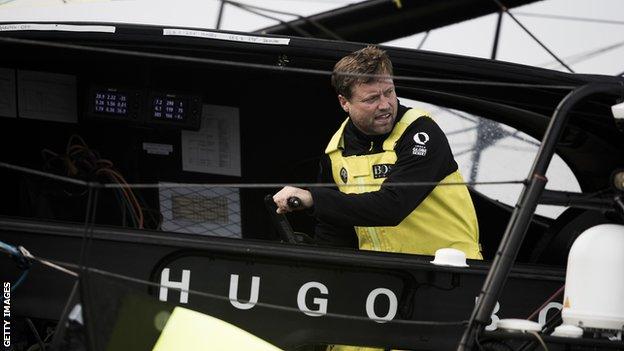 British sailor Alex Thomson missed out on victory in the transatlantic Route du Rhum race because he received a 24-hour penalty in the final stages.
France's Paul Meilhat won the race from Brittany in France to Pointe-a-Pitre in Guadeloupe after 12 days at sea.
Thomson, 44, was penalised after running aground in his IMOCA class Hugo Boss monohull and using his engine to free himself, 70 miles from the finish.
He had led for most of the race, which takes place every four years.
The Englishman, who said the penalty was "very fair", slept through an alarm with his boat in autopilot.
"I expected to arrive in Guadeloupe today, not hit it," said Thomson after crossing the finish line on Friday.
After his first "big win", Meilhat said: "I can't believe this has happened.
"Alex's mishap leaves us chilled because we were all attacking so hard, like mad things.
"When we put ourselves in situations of extreme fatigue, mistakes can be expensive. I am just happy he is OK."
Yann Elies came second, two hours behind his compatriot Meilhat. Vincent Riou, also of France, is on course to finish third.
The last British winner of the Route du Rhum in the IMOCA class was Dame Ellen MacArthur in 2002.