World Cup Series: British trio win World Cup Series medals in Japan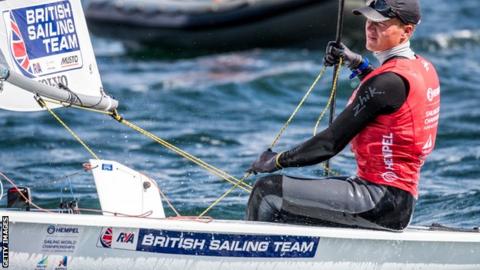 Briton Elliot Hanson confirmed his win in the Laser, while compatriots Giles Scott and Ed Wright claimed respective silver and bronze Finn medals at the World Cup Series in Enoshima, Japan.
Hanson was already assured of victory in the Laser going into the last race, in which he finished sixth.
Scott and Wright were hoping to catch overnight leader Nicholas Heiner.
But they could not improve on their positions because a lack of wind meant the medal race did not take place.
Enoshima will be the venue for the 2020 Tokyo Olympics sailing competition.
"It's amazing to win on Olympic waters," Hanson said. "There's a real history of those who can perform in venue in the years running up to the Games going on to have great success.
"That's a great confidence boost going into the next two years.
"As a British squad we're so strong and it's going to be tough just to qualify for the Games. This result certainly isn't the be all and end all but it's a great boost."