Ed Wright: British sailor wins second European Finn title
Last updated on .From the section Sailing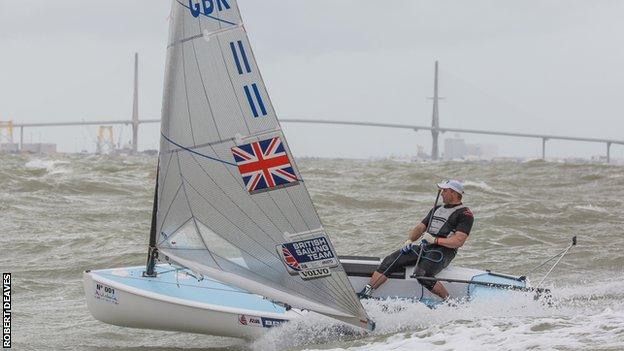 Ed Wright's second European title in the Finn class shows that British sailing has "healthy competition" for the Tokyo 2020 Olympics.
Wright, 40, won in Cadiz to add to his 2006 European title, while teammate Ben Cornish finished sixth.
British sailors have enjoyed a successful start to 2018, with Giles Scott winning World Cup gold.
Olympic performance manager Mark Robinson said they were building on the legacy of Iain Percy and Ben Ainslie.
Percy is a double Olympic champion and team manager of America's Cup challenger Artemis Racing, while Ainslie is a four-time Olympic champion and America's Cup champion.
"This is a great result for Ed Wright in very physical conditions, showing he is very much at the top of his game after more than 17 years in the British Sailing Team," said Robinson.
"A strong finish for Ben Cornish over the final few days proves he remains in top form. Along with Giles Scott's emphatic Miami World Cup win in January this shows there will be a lot of healthy competition for that coveted Tokyo 2020 spot and to continue the legacy built by Iain Percy and Sir Ben Ainslie."