Ben Ainslie: America's Cup skipper's ambition is to sail round the world
Last updated on .From the section Sailing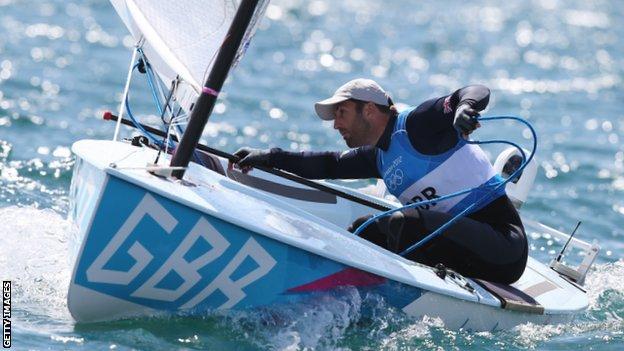 America's Cup captain Sir Ben Ainslie says he has not given up his childhood dream of sailing round the world.
Ainslie, 41, who won four Olympic gold medals between 2000 and 2012 as well as the America's Cup in 2013, has never attempted the round-the-world feat.
"It's always been on my radar because my dad raced in the first ever Whitbread Race in 1973," he told BBC Sport.
Ainslie will start his 2021 America's Cup campaign later this year.
His father, Roddy, was the skipper of Second Life, which finished seventh in the inaugural edition of the Whitbread Round-the-World Race, which is now known as the Volvo Ocean Race.
"I grew up with all these stories of ocean racing from the round-the-world race," Ainslie said. "My key ambitions were to go to the Olympics, win the America's Cup, and win the Whitbread Race."
Ainslie's BAR team have a partnership with Vestas 11th Hour Racing, whose boat will restart the current Volvo Ocean Race in Auckland after missing a leg because of a crash on the way into Hong Kong in January.
The latest edition of the Volvo Race - the seventh leg of which started on Sunday - takes around nine months to complete, so having a young family might deter Ainslie from taking part for some time yet.
"That's still an ambition, so perhaps in the future that would be an option," he said. "For now, though, it's still the America's Cup and that's unfinished business for us.
"And there's always the Jules Verne Challenge - which is the non-stop record - which is also something I need to have a crack at one day.
"That's now getting well under 40 days and it won't be long before they're pushing 30 days to sail around the world, which is just phenomenal."
As the 2021 America's Cup will be raced in monohulls instead of catamarans, Ainslie will race with Gladiator in the TP52 Series in Croatia, Portugal and Spain from May to September.
In a change of role, he will be the boat's tactician rather than a skipper.
"[Gladiator owner/skipper] Tony Langley, who's been racing that circuit now for about 10 years with his own team, came to us and kindly offered his boat for us to race with him to get the team out there on the circuit," Ainslie said.
"That's an interesting dynamic. You're trying to guide the helmsman through a lot of the manoeuvres. It's a different approach to what I'm used to but very interesting too."