Volvo Ocean Race 2017-18: Rule changes 'force' skippers to take women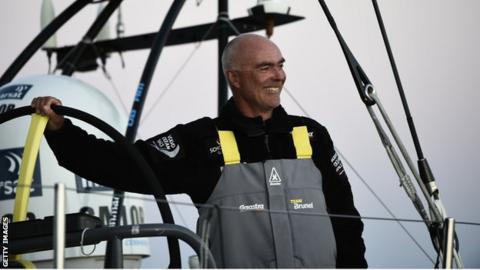 Volvo Ocean Race skippers have been "more or less forced" to have women in their crews after rule changes, says veteran sailor Bouwe Bekking.
Organisers of the round-the-world race have brought in new regulations to incentivise crews to select women.
Team Brunel skipper Bekking described his British crew members Annie Lush and Abby Ehler as "fantastic".
"When the rule came out, I said straight away I didn't like it," said the 54-year-old Dutchman.
"It's better to be able to choose your own team. The rules have been rewritten in such a way that you are more or less forced to take two women.
"I said we have to take two girls, otherwise you have a disadvantage."
Each of the seven crews taking part in the 2017-18 race - which starts on Saturday in Alicante, Spain - will feature at least one female crew member.
In previous races, an all-male crew could be made up of eight members.
But such teams are now restricted to seven, while mixed crews can be made up of 10 sailors, and female-only teams can feature 11.
"This is giving more opportunity to the very best female sailors in the world to compete on equal terms," Volvo Ocean Race chief executive Mark Turner said last year.
"We're using the crew rules to incentivise skippers to bring one or more female sailors onboard.
"I really hope that it's not necessary to have any rule at all in the future - but it seems it's the only way today to ensure we can maintain progress."
Rule changes 'pure marketing'
Bekking is preparing to take part in his eighth Volvo Ocean Race and is the most experienced sailor in the event's history.
But this will be the first time he has had women in his crew.
"We have two fantastic ladies on board and we can be really happy with the team we have put together," he said. "Everybody is now just the same."
Ehler and Lush were part of the first all-female crew for 25 years to win a leg of the race when Team SCA won the eighth leg of the 2014-15 event.
And the former has been appointed "boat captain" by Bekking - a role which means she is responsible for all technical aspects of the boat, as well as the safety equipment.
Bekking believes the changes are generally positive as they "get more girls interested in the sport", but says teams were not consulted beforehand.
"We weren't asked about the rule changes but you just have to live with their decision and take it on the chin," he said.
"For Volvo, they have to sell cars and trucks. Around half of the world's population is female so if you have more females in the race, they have more attention for their products.
"It's a pure marketing thing. Will it work out? We will see."
Race director Phil Lawrence said: "We're determined to maintain our female presence in the race.
"The proportion of women in sailing is growing all the time, and we think that it's important that as sailing's leading offshore property, that we maintain a representative demographic."
Bekking began assembling his team in June and believes his two female crew members have come on "tremendously" in the past two months.
But he also says there are on-board changes that will need to be made to accommodate both sexes for the first time.
"Males have a different way of having fun and having jokes, so that's what you have to be a little bit more careful about.
"And even though we have very strong females, they are lacking experience and the males are still physically stronger. It's a change of mindset and you have to adjust to it."
Mixed teams 'most normal thing in the world'
Britain's Dee Caffari is the only female skipper in the race, and her Turn The Tide On Plastic team has a 50/50 split of men and women.
She says a mixed team is the "most normal thing in the world".
"This could be a watershed moment," she said of the rule change.
"If we can get over this barrier in this edition of the race, then suddenly it won't be a gender-driven process but just sailors picked on their ability in the future."
In 2006, Caffari became the first woman to sail single-handedly and non-stop around the world. She has spent much of her career racing alongside men.
"In most of the sailing I've done, the females have been in the minority and the guys I've sailed alongside have never brought it up," she said.
"I don't see the gender issue very often."
In the 2014-15 event, Caffari raced alongside Lush and Ehler in the all-female Team SCA crew.
But the Briton has now taken charge of her own team - one which is prioritising youth and gender equality, alongside a serious environmental message.
"If I can deliver some results being fully mixed, I think we really will have made an impact in the discussion of gender in sailing.
"It's a test and in the future hopefully this will develop a lot more organically without the need for such contrived rules.
"I know there was a hesitancy from the old-school sailors, who felt pressured to put females on the boat and to be on a level playing field.
"But they were the people who hadn't sailed with a mixed crew before. Now they've done it, they've realised the female sailors can be strong, can be useful on the boat and can perform without being a handicap."
What is the Volvo Ocean Race?
Held every three years
The 2017-18 contest begins in Alicante, Spain and finishes in The Hague, Netherlands
The 11-leg race will visit 12 cities in six continents
Seven teams will compete
Eleven British sailors are taking part across six of the seven crews
The 13th edition of the race - first staged in 1973 - will be the longest ever, with more than 45,000 nautical miles to be sailed on its 11 legs.
The winners of seven of the legs will get eight points, second place scores six and then 5-4-3-2-1 down to last place.
The longer legs - Cape Town to Melbourne, Auckland to Itajai and Newport to Cardiff - have double points awarded (15-12-10-8-6-4-2).
There are also bonus points for the overall best time for the whole race, and for the first boat to round Cape Horn.
Points won in the in-port races at the race's 12 stops count only as a tie-breaker if one or more yachts are level in the overall standings.