America's Cup: Team New Zealand trounce Oracle Team USA
Last updated on .From the section Sailing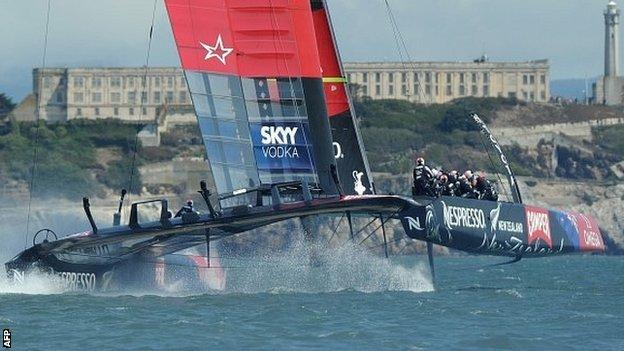 Emirates Team New Zealand took a 4-1 stranglehold on the America's Cup with a resounding win over holders Oracle Team USA in race five in San Francisco.
The Kiwis won by a huge 65-second margin before the Americans played their joker to postpone race six.
The first team to nine wins will claim the 162-year-old trophy, but Oracle were penalised two points ahead of the regatta and are effectively minus one.
"We need to go back and regroup," said Oracle skipper Jimmy Spithill.
"We feel they've got a bit of an edge on us, especially upwind."
Oracle incurred the penalty for illegally modifying their 45-foot catamaran in the event's warm-up series and must win 11 races to keep the Cup.
Team New Zealand dominated the event's first three races in the revolutionary 72ft catamarans, before Oracle hit back in race four on Sunday.
But, after a rest day, the Kiwis again impressed with their speed and boat handling and appear to have the Larry Ellison-bankrolled Oracle team rattled.
The Americans won the start and the sprint to the first mark and built a decent lead on the downwind leg to the second mark behind Alcatraz Island.
But a clumsy tack slowed down their boat and the Kiwis were able to sail past going back upwind towards the Golden Gate Bridge to win by more than a minute.
"It's a tough way to win races, but it's working for us," said New Zealand skipper Dean Barker. "We have plenty to work on, but it was encouraging to get back in the race."
Shortly before race six, Oracle announced they would be using their "provisional card" to call off racing for the day.
"We need to up our game," said Australian Spithill. "We're not going to hide from that. We're going to make sure we step up for the next one. It's a team decision."
Wednesday is a rest day so racing will resume on Thursday.
The winners of the event earn the right to choose the format and venue of the next America's Cup, the oldest trophy in international sport.
BBC coverage times
Highlights (all BST)
Wed, 11 Sep - 13:30-14:15 (BBC Two)
Fri, 13 Sep - 13:30-14:15 (BBC Two)
Sun, 15 Sep - 12:15-13:00 (BBC Two), 14:30-15:15 (Red Button)
Mon, 16 Sep - 13:30-14:15 (BBC Two), 14:15-15:00 (Red Button)
Wed, 18 Sep - 11:15-12:00 (BBC Two), 12:00-12:45 (Red Button)
Fri, 20 Sep - 13:30-14:15 (BBC Two), 14:15-15:00 (Red Button)
Sun, 22 Sep - 14:05-14:50 (BBC Two), 16:40-18:10 (Red Button)