Sam Goodchild sits in ninth place in the Solitaire du Figaro race
Last updated on .From the section Sailing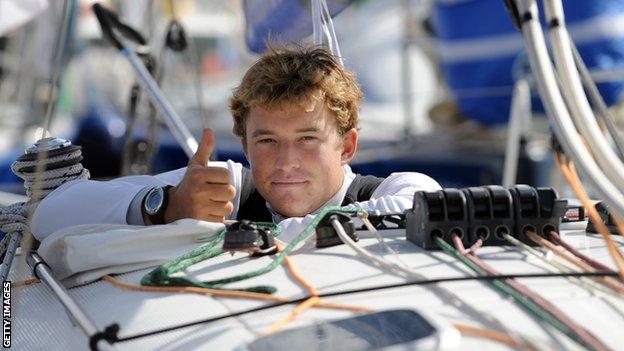 Cornish sailor Sam Goodchild is now ninth overall in the Solitaire du Figaro race after two legs.
He finished 11th in the last section of the event, which saw the fleet head to Gijon in Spain from Porto in Portugal.
Goodchild is now preparing for leg three, which will see them race to Roscoff in France.
"I'm pretty happy, I didn't expect to be anywhere near here to be honest," Goodchild told BBC Radio Cornwall.
"I had a good start but I went fairly quickly to the back of the fleet and I struggled to get the boat going but at halfway I seemed to find a good mode and got a good speed and overtook a few boats."
The Solitaire du Figaro is one of a series of solo races which Goodchild hopes will give him the experience needed to reach his ultimate goal of competing in the 2016 Vendee Globe.
"I have been hugely surprised by how much support I have been getting on email, phone and Facebook by people saying 'well done'."
"There are some big names that have lost miles and there are people like me who are probably a little ahead than I should be, so I am not going to get too ahead of myself."