Artemis to race America's Cup after Andrew Simpson's death
Last updated on .From the section Sailing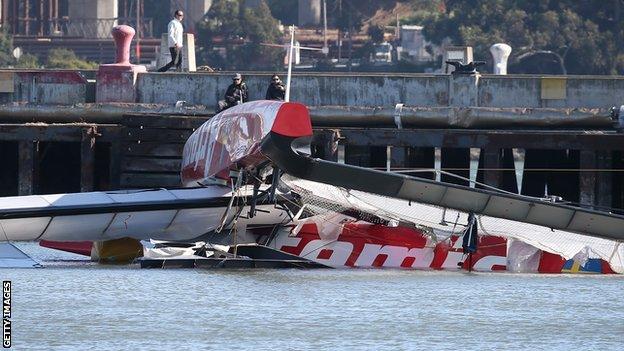 Sweden's Artemis Racing team say they will compete in the America's Cup, despite the death of British sailor Andrew Simpson in a training accident.
Artemis are currently working on a new, safer vessel to use in the race.
Artemis CEO Paul Cayard said: "We are working around the clock to get our new boat ready, in the water, and to prepare our team to race."
He added: "We still have a mountain to climb, but our plan is to launch our new boat in early July and get ourselves in a position where we can race by the end of the month."
Preliminary races are scheduled for early July so it is unlikely that the team will be ready to compete by then.
The accident which saw Artemis' 72-foot catamaran capsize and trap Simpson underwater has led to numerous calls for the safety of the multihull boats, which can reach speeds of up to 50 miles per hour, to be improved.
Organisers have announced that the number of races in the Louis Vuitton Cup series of round robin elimination races has been reduced from seven to five.
The winner of that will challenge America's Cup defender Oracle Team USA in the final two-boat America's Cup match races in September.
Fewer races in the Louis Vuitton Cup give the three competitors - Artemis, Italy's Luna Rossa Challenge and Emirates Team New Zealand - more time for boat maintenance.
The other teams in the America's Cup have shared structural data about their yachts to help Artemis prepare its new boat for racing as quickly as possible.
America's Cup Authority head Stephen Barclay said: "Once they get to the start line it's dog eat dog but they want to help Artemis get there."
If Artemis start late or even miss the first round, they would still have a chance of making the America's Cup races.