Sir Ben Ainslie calls for rule changes after Simpson's death
Last updated on .From the section Sailing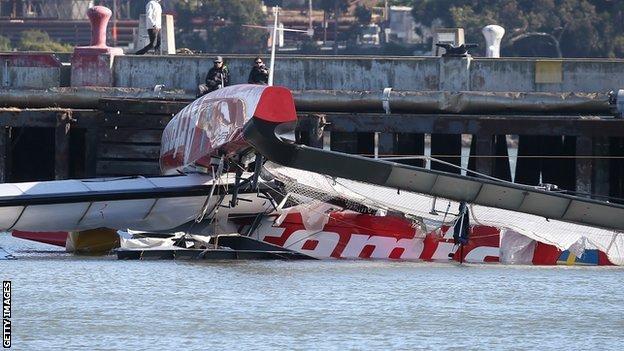 Sir Ben Ainslie says the America's Cup rules must be reviewed to improve safety after British sailor Andrew Simpson was killed in May.
Race organisers have confirmed that the event will go ahead in the summer.
"No-one ever wants to see anything like that happen ever again, so we'll do everything in our power to avoid that," Ainslie told BBC Sport.
"Of course we need to look at some of the rules to try to increase the safety of those boats, the AC72 class, and we're going through that process right now.
"There have already been decisions on some of the safety aspects to try to avoid another capsize like that that led to the tragedy with Andrew, so I'm sure they will be very effective."
Simpson died when he was trapped under the upturned hulls of his boat in a training accident in a newly designed high-speed multihull boat.
His death has led to calls for the new boat designs to be re-assessed and an independent safety review is currently being carried out by the organisers.
The 2013 edition takes place in San Francisco from 4 July to 21 September.
Ainslie has returned to training following Simpson's death and dedicated his record-breaking victory in the Round the Island race on Saturday to his fellow Olympic champion.
Ainslie's crew beat the previous record by over 16 minutes on Saturday.
"We wanted to do it in his name. He was such a good friend of mine and of so many people," Ainslie said.
After circumnavigating the Isle of Wight in two hours and 52 minutes, Ainslie added: "Maybe he was smiling down on us, because the conditions were fantastic today - we couldn't have asked for any better.
"It was Andrew's funeral yesterday [Friday], so that was a very moving day for all of us. It was really amazing how much influence he had, how many people he affected and how much love there was for Andrew."
Ainslie will now return to San Francisco to rejoin the Oracle team he is racing for in the America's Cup and he said his friend's death "has changed my perspective on life".
"One of the things everybody close to Andrew loved about him was that yes, he wanted to win and he hated losing, but he was such a family man and so caring about other people," said Ainslie.
"He'd always put people first and that's a very honourable trait to have."