Rio 2016: Luke Patience and Joe Glanfield team up in 470 class
Last updated on .From the section Sailing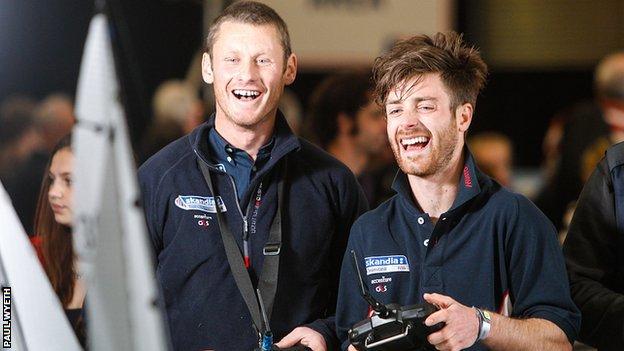 Britain's two-time Olympic sailing silver medallist Joe Glanfield is hoping to compete again at Rio 2016 after joining up with London 2012 470 class silver medallist Luke Patience.
Glanfield, 33, won 470 class silvers with Nick Rogers in Athens 2004 and Beijing 2008 but retired after China to concentrate on coaching.
"I coached at this Olympics and I loved it and learned a lot," he said.
"But I realised that I still had a passion to compete and race myself."
The Exmouth sailor guided Hannah Mills and Saskia Clark to World Championship gold and Olympic silver in the 470 class in 2012.
But after Patience and crew Stuart Bithell split up after winning silver in Weymouth, Glanfield seized the opportunity to renew his competitive career.
"It was gnawing away at me that [Rio] might be my final opportunity, so when I started talking to Luke about the possibility of coming back, it just seemed too good an opportunity to turn down," added Glanfield.
"We've known each other a long time, I've got a lot of respect for Luke and Stuart and how they went about their campaign last time, so I knew that we got on well. I just wanted to see if I could come back and see what I could do."
Bithell thought he would struggle to keep his weight down sufficiently to be competitive in the 470 dinghy in the light winds of Rio and has joined Chris Grube to campaign in the high-performance 49er class.
Scotland's Patience, 26, said: "Joe and I had been having conversations over the autumn period about sailing together.
"I think with Rio going to be a lighter [wind] venue and those changes coming along, and then Joe deciding he wanted to get back in a boat I was delighted and it all made complete sense that that was the right route to go down.
"I think we're quite aware of each other's strengths and what we can bring to a team, and we both felt that it was something that would work well together. I'm really excited - I'm always excited for the future."
Britain's Olympic sailing manager Stephen Park said: "Joe is obviously a very experienced campaigner and a proven performer at the highest level of 470 sailing, so while we're sorry to be losing him from the coaching staff, we're delighted to see his return to competition.
"His experience and track record combined with Luke's own talents, relative youth and enthusiasm make for an exciting partnership and I look forward to seeing their progress in the months to come."