Luke Patience's Olympic dream rewarded
By Rhona McLeod
BBC Scotland
Last updated on .From the section Sailing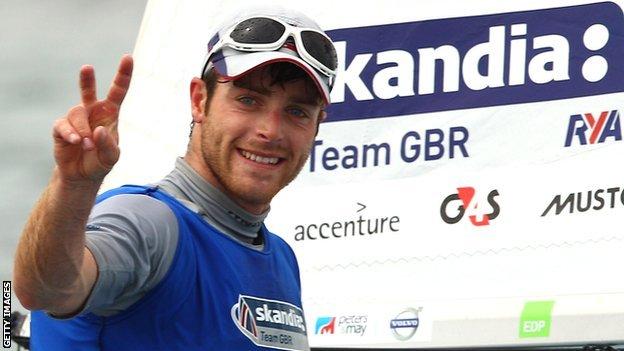 Luke Patience is the first Scot to have been selected for Team GB at the London 2012 Olympic Games.
It's an accolade which the 25-year-old sailor admits he was not aware of when he received his long-awaited call-up from the Olympic Selection Committee.
For Patience, selection has been the answer to his hopes and aspirations - and 12 years of dedication to his own personal Olympic dream.
"I have always been gripped by the Olympics and remember watching them as a child, but it was in Sydney in 2000 that it really took hold of me," he said.
"I thought 'that's for me, I want to spend my life trying to get to the position to go to the Olympics and try to win a gold medal'.
"It just consumes me and I love it."
I travelled to Coconut Grove, Miami, where Patience and his 470 sailing partner Stuart Bithell were training and getting ready to take part in a World Cup competiton.
The pair were still floating on air as a result of their selection the month before.
It seemed to me that their focus had not yet shifted entirely to London 2012; recovery time was still needed after their arduous selection ordeal.
The Team GB manager Stephen Park explained: "They've had a really tough challenge as they've had to race against two very experienced teams.
"One team included a double silver-medallist at the last two Olympic Games, and another British team which has won the World Championship twice.
"Unfortunately, it was a little drawn out, as our Olympic Selection Committee wanted to make sure that the team we ended up picking would put Great Britain in the best possible position to win a medal in the summer of 2012."
There is no doubt that Patience and Bithell will perform well.
Their professionalism, determination and skill are evident. However, Patience admitted to me that he had not slept easily in the months around their selection campaign.
He said: "Our coach, Morgan Reeser won an Olympic silver medal with Team USA."
He has been involved in many campaigns, and he told us: "The Olympic trials sector of your campaign is always difficult and a very aggressive time.
"Once the trials are won and you move forward knowing you are the team going to the Olympic games, it doesn't make it any less hard work, but much more enjoyable and we are starting to feel that since our selection."
The feeling around the Coconut Grove boatyard was of relief for those sailors already selected, but for others, including Scot Charlotte Dobson, the selection campaign continues.
As a non-Olympian, I was surprised that the Olympic selection process would have such an impact, before, during and even after selection.
But the evidence is tangible.
There are highs and lows that most of us are not at all aware of on the road to London 2012.
For Patience and Bithell, their first competition since selection was not a success and they withdrew early from the event.
But onwards and upwards is their attitude.
"We've had our kick on the backside," said Patience.
Now their focus is set - looking firmly to the future.
Sport Nation is on BBC Two Scotland at 1900 GMT on Tuesday the 6 February.