Injury forces Iain Percy and Andrew Simpson out of World Championships
Last updated on .From the section Sailing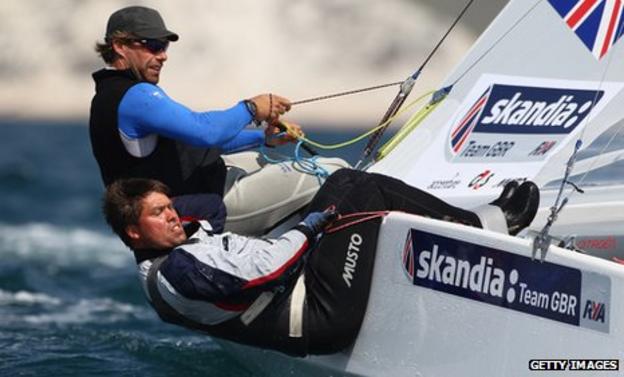 British pair Iain Percy and Andrew Simpson have been forced to withdraw from the World Championships due to Percy's back injury.
"We're really disappointed to have to pull out," said Percy, who will compete with Simpson at the 2012 Olympics.
"We were having a great regatta, were sailing well and were really enjoying the racing."
The double Olympic gold medallist added: "We haven't done a lot of racing recently so it was great to be racing together with Bart again, and to be racing as well as we were.
"It's certainly frustrating, but it's more important for me to concentrate on getting fixed and fit again so that this doesn't happen when it really matters at the Games next summer."
The news comes a day after Ben Rhodes's rib injury ended his involvement in the 49er class alongside Stevie Morrison.
Defending world champions Lucy Macgregor, Annie Lush and Kate Macgregor have sealed their place in the semi-finals of the women's match race event with a 3-1 victory over the Dutch crew of Mandy Mulder, Merel Witteveen and Annemiek Bekkering.
The British trio had to race an additional 15 matches - winning 13 of them - just to make the quarter-finals after a disappointing round-robin performance and will face the French team, skippered by Claire Leroy, in Thursday's semi-final.
"We've done a lot of racing over the past 10 days," said Lush. "I think we've done 35 matches, but we are in the groove and it feels really good to get that amount of racing in. We're feeling good about Thursday."
In the 49er class, British sailors John Pink and Rick Peacock, the 2010 world silver medallists, top the leaderboard with six races to go before the medal race.
Reigning Olympic Laser champion Paul Goodison still has a chance of winning his second world gold medal as he sits in second place behind three-time world champion Tom Slingsby, while countryman Nick Thompson dropped to eighth overall, just five points off of the podium spots.
Britain's top two 470 women's crews remain in the medal hunt, with Penny Clark and Katrina Hughes in fifth and Hannah Mills and Saskia Clark just two points behind in seventh.