Banque Populaire and Abu Dhabi break Fastnet records
Last updated on .From the section Sailing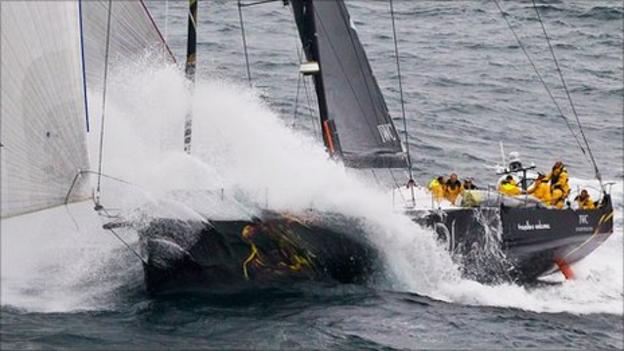 A giant trimaran and Volvo Ocean Race entry Abu Dhabi broke the multihull and monohull records for the Fastnet Race.
The 140ft Banque Populaire covered the 608nm course from Cowes to the south coast of Ireland and back to Plymouth in one day eight hours 48 minutes.
Abu Dhabi's Azzam, led by double GB Olympic silver medallist Ian Walker, took one day 19 hours 39 minutes.
Rambler 100, the favourite to take line honours in the monohull class, capsized off Ireland after losing its keel.
All 21 crew members aboard Rambler were rescued after the incident 12 miles from Baltimore in County Cork from Fastnet yacht.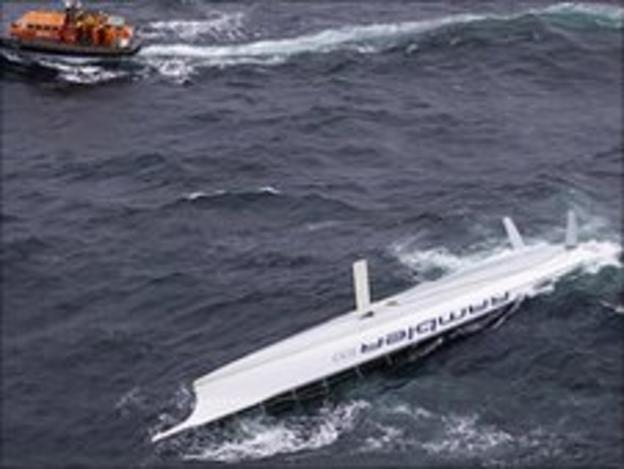 In windy conditions, Banque Populaire, skippered by Frenchman Loick Peyron, broke the multihull record of one day, 16 hours, 27 minutes he previously set in 1999 aboard his 60 foot trimaran Fujicolor.
The yacht, which holds the world record for the most number of miles covered by a sailing boat in one day - 908.2 miles - also broke the outright course record of one day 11 hours and 17 seconds set by Steve Fossett's 125ft catamaran PlayStation in 2002.
"This giant trimaran is amazing and especially the crew," said Peyron. "This boat is a record-hunter. That's not the first one and it's not the last one, I hope."
Abu Dhabi Ocean Racing's 70ft Azzam, using the classic Fastnet Race as a tune-up for the Volvo Ocean Race, beat the previous monohull record, set by the 100ft Icap Leopard in 2007, by one hour 39 minutes. Leopard finished in one day 20 hours nine minutes.
The black-hulled Azzam arrived at an overcast and drizzly Plymouth finish line at 0749 BST on Tuesday, just under five minutes ahead of Franck Cammas' Volvo Open 70 Groupama 4.
"It's cool because I've never done any record-type stuff before," said Walker, a former British America's Cup skipper. "It always seems to be the 100-footers getting the records.
"But overall it's a relief to know that we're competitive. We didn't blow Groupama out of the water but it's a relief to know that we're at the party."
The 2011-12 Volvo Ocean Race sets off from Alicante, Spain on 29 October sailing eastwards around the world with stopovers in Cape Town, Abu Dhabi, Sanya (China), Auckland, Itajai (Brazil), Miami, Lisbon, Lorient and Galway.