North v South Pro14 Rainbow Cup final being finalised for June in Italy
Last updated on .From the section Rugby Union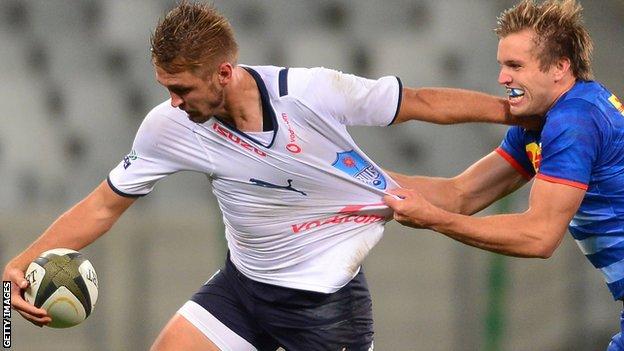 Benetton's Stadio di Monigo in Treviso, Italy, will host the Pro14 Rainbow Cup final on 19 June between the best European team and their South African counterparts.
A kick-off time will be confirmed soon, with a maximum of 1000 fans admitted under current Italian regulations.
South Africa's four leading teams were supposed to have games against Welsh, Irish, Scottish and Italian teams as the 2020-21 season progressed.
Covid-19 restrictions put paid to that.
Initially the final was due to be between the top two sides from a 16-team tournament.
The 2020-21 Pro14 season involving Europe-based teams was curtailed with the intention of introducing the South African teams for the latter stages of the current campaign via the Rainbow Cup.
But that plan formulated in December was disrupted by the coronavirus pandemic.
That has left the final as the only possible inter-hemisphere game to conclude the competition.
Pro14 Rugby chief executive Martin Anayi said: "We are incredibly grateful to our friends and colleagues in Italian rugby for their role in creating this opportunity to host the 'North v South' Rainbow Cup final.
"In a very short space of time we have been able to find a terrific way to tie the two tournaments together as originally envisaged and provide a glimpse of the future as the top team from the existing Guinness Pro14 meets the best that South Africa has to offer."
If current standings produced the two finalists, Italian team Benetton would be in their own stadium against Bulls of South Africa.
The Covid-19 pandemic has forced Rainbow Cup games to date to be contested between teams from the same nation, with cross-border games in Europe only now taking place.
Should pandemic restrictions allow it, the Pro16 will be launched in 2021-22 with the South African teams facing regular fixtures against teams from the Celtic nations and Italy.