Javier Rojas Alvarez: Cornish Pirates' Argentina fly-half leaves club
Last updated on .From the section Rugby Union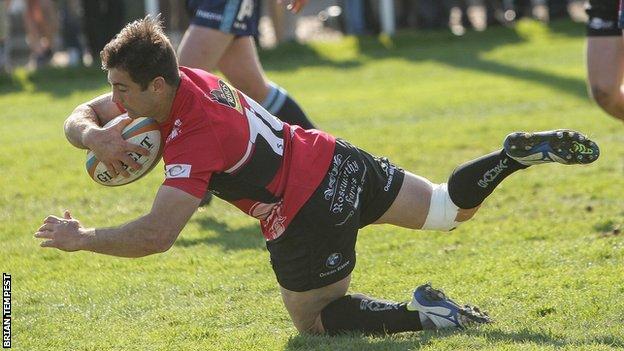 Argentina fly-half Javier Rojas Alvarez has left the Cornish Pirates.
The 29-year-old, who first joined the Championship club in April 2018, has undergone knee surgery.
Alvarez, who won five caps for the Pumas from 2012-14, played 42 games for the Pirates and scored 279 points.
"With the support of the many fine people in the community of Cornwall, I wish the Cornish Pirates all the very best in the future for the club to fulfil its ambition," said Alvarez.
"Wherever my career has taken me, I try to learn as much as possible, which was certainly so at the Pirates," said Alvarez.
In his place the Pirates have signed 22-year-old former Exeter University fly-half Harry Bazalgette.
"He has a strong kicking game, leads by example and has good knowledge and game management for a young man," joint-head coach Gavin Cattle said of Bazalgette.
"Although not tested at Championship level, Harry undoubtedly shows considerable potential and is someone who will be exciting to work with."