Iain Henderson: Ulster and Ireland lock signs two-year contract extension
Last updated on .From the section Irish Rugby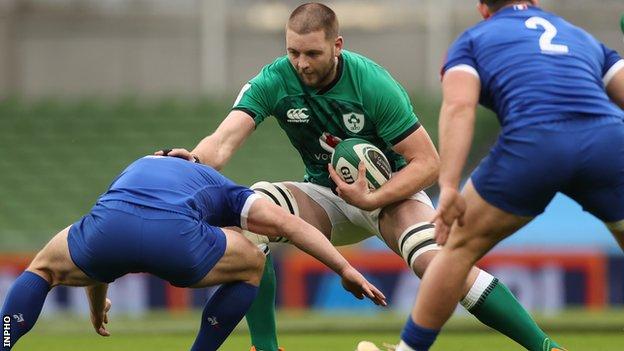 Ulster captain Iain Henderson says he was never tempted to seek a new club after signing a two-year contract extension.
The deal will see the lock, who is centrally contracted with the IRFU, stay at Ulster until at least 2023.
With the deal set to expire two months before the next World Cup, Henderson said he hopes to be extending his stay again before the contract runs out.
"I've only ever had eyes for Ireland," he laughed
"Few players would try and play clubs off against each other, you wouldn't necessarily get that far down the line for clubs to be making casual offers.
"The contract negotiations were later than we would have maybe anticipated [because of the Covid-19 pandemic], or the way they would be in a usual year.
"That was something that anyone at any profession would find stressful, pushing out their security going forward.
"When we got underway the discussions my agent had with (IRFU performance director) David Nucifora and other members of his team, they weren't painful at all.
"They were understanding and from both sides of the table they knew where we had to get to and it didn't take anywhere near as long as I thought it would."
Having made his senior Ulster debut in 2012, Henderson succeeded Rory Best as the province's captain in 2019.
The 29-year-old has played 60 times for Ireland and represented the British & Irish Lions on the 2017 tour of New Zealand.
Securing Henderson's deal is another big step for Ulster, who agreed to extensions with 23 senior players earlier this year.
Captaining Ireland a positive experience
With Johnny Sexton and James Ryan unavailable, Henderson captained Ireland for the first time in their defeat by France on 14 February.
"I'd love to do it again," he said.
"I really enjoyed it, obviously the result wasn't what we wanted but I really enjoyed the build up to it and during the game.
"Obviously there's a pecking order ahead of me... this team has leaders the whole way through it and that's obviously what made it feel more seamless for me, or made it more easy for me to step into that role.
"The team that I was put in charge of had leaders right the way through it.
"I chatted with Johnny prior to a couple of meeting and I had a chat with Paulie (O'Connell) as well around it and I had a good chat with Rory Best.
"They are three people who have always set an incredibly good example in any team they have ever captained so, like I said when I was moving into the Ulster captaincy I didn't want to just move into the exact shoes of one of them.
"I wanted to try and get a feel and do it slightly differently in my own way, which I felt I tried to do, but it was an enjoyable experience nonetheless."
Ireland face Italy in Rome on Saturday where they hope to ignite their Six Nations campaign having lost their opening two matches.