Transgender women in rugby union: Mixed reaction to World Rugby decision
Last updated on .From the section Rugby Union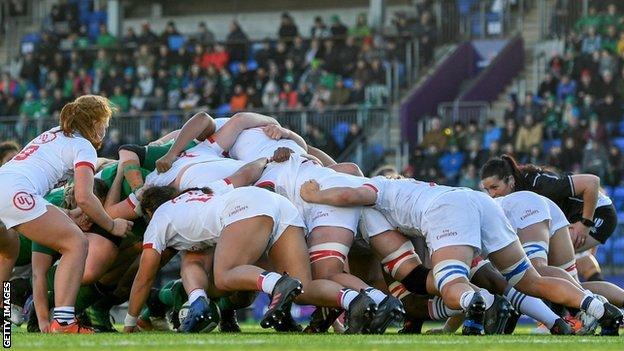 World Rugby's decision to prevent transgender women from competing at the highest levels of the women's game has provoked a mixed reaction.
The move has been criticised by LGBT charity Stonewall, while some women's rights and gay rights campaigners have welcomed the decision.
New guidelines published on Friday "do not recommend" transgender women play contact rugby "on safety grounds".
National unions can be flexible in their application of the guidelines at community level.
Stonewall says it is "deeply disappointed" with the decision, but Fair Play for Women - which "works to protect the rights of women and girls in the UK" - thanked World Rugby "for not trading away women's safety".
"The proposals were based on hypothetical data modelling that has little relevance to the questions of fairness and safety in rugby that the policy review sought to address," said Stonewall chief executive Nancy Kelley.
"Important policies like this should be based on robust, relevant evidence and work closely with trans people playing in the sport."
However, Bev Jackson, co-founder of the LGB Alliance, said the organisation "applauds World Rugby for conducting a thorough, evidence-based study and making a decision on that basis to protect safety in women's rugby. We are very pleased that they resisted political pressure and kept to scientific facts. Many lesbians play this sport and they are enormously relieved."
She added that "judging by the reactions we have received, a great many LGB people and indeed many trans people think this was the right decision".
Dr Nicola Williams, director of Fair Play For Women, said: "World Rugby have taken a transparent and evidence-based approach and we welcome their decision to prioritise safety and fairness for elite female players.
"We now look to Rugby's national governing bodies to follow their lead and guarantee the same protections for the thousands of women and girls who play at club level."
Transgender men remain permitted to play men's contact rugby union, but the sport's governing body says a review of its existing guidelines had concluded that "safety and fairness cannot presently be assured for women competing against trans women in contact rugby".
World Rugby chairman Bill Beaumont said: "We recognise that the science continues to evolve and we are committed to regularly reviewing these guidelines, always seeking to be inclusive."
Speaking to BBC Sport in August, Grace McKenzie, a trans woman who plays for Golden Gate Women's rugby club in San Francisco, said she was worried "that other sporting federations will look at World Rugby and begin to second-guess the existing science that supports trans women's inclusion in sport, and begin to make policies based out of a place of fear instead of a place of logic and reason".
"I want to be able to participate fully with my team and in the sport that I love. I think that there is still a path forward to allow us to do that," she said.
Former Great Britain swimmer Sharron Davies, who has been vocal on the issue of trans women in elite sport, also welcomed World Rugby's decision.
The 57-year-old, a silver medallist at the 1980 Olympics, posted on social media: "If we, as a fair society, want equal opportunities for females to medals, team places, safe sport and scholarships, with all the associations, rewards and careers, sport must be based on biological sex."