World Sevens Series: New Zealand win men's and women's titles as remaining rounds cancelled
Last updated on .From the section Rugby Union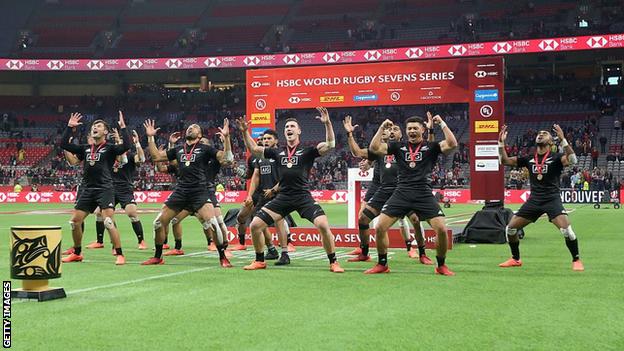 New Zealand have been awarded the men's and women's World Sevens Series titles after the cancellation of the remaining rounds amid the coronavirus pandemic.
The All Blacks won three of six men's rounds, with London, Paris, Singapore and Hong Kong tournaments called off.
The Black Ferns won four of the five completed rounds of the women's series, but legs in Langford, Paris and Hong Kong have been cancelled.
England finished fifth in the men's standings, and eighth in the women's.
In the men's tournament, Ireland were 10th, Scotland 11th and Wales 15th, while Ireland's women finished 10th.
Japan won the inaugural men's Challenger Series title as they topped the rankings after the two completed events and will join the World Sevens Series in 2021 as the 16th core team.
There will be no promotion to the women's series this year as the inaugural Challenger Series event originally scheduled for March in Stellenbosch, South Africa was not able to take place.
"Rugby sevens is a key driver of global growth for our sport, particularly in emerging nations, and it firmly remains a top priority for our organisation, said World Rugby chairman Sir Bill Beaumont.
"As we begin to see light at the end of the tunnel, 2021 has potential to be a very exciting year for rugby sevens with the Tokyo Olympic Games on the horizon."
Seedings for the Olympics will now be adapted to include results from the 2021 World Sevens series.