Coronavirus: Newcastle boss criticises Ealing over possible legal action
Last updated on .From the section Rugby Union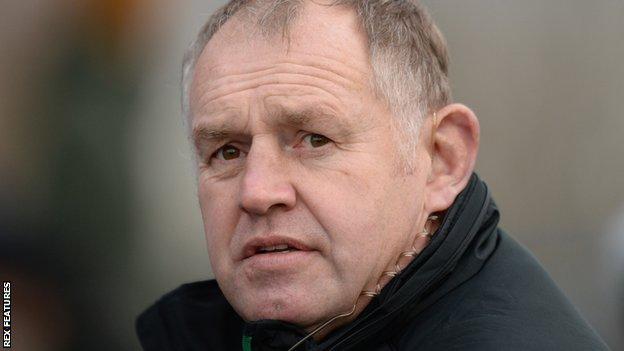 Newcastle Falcons director of rugby Dean Richards has said that the possibility of Ealing Trailfinders pursuing legal action if they are denied the chance to win promotion from the Championship is "distasteful".
Falcons were 18 points clear of Ealing when the Rugby Football Union called off the season because of coronavirus.
Ealing director of rugby Ben Ward has said his club are taking legal advice.
But Falcons boss Richards said it "reflected very poorly" on Ealing.
The fallout comes after the RFU decided to end the season for all levels below the Premiership on Friday.
Richards added in a statement: "At a time of national crisis we should be focusing all our attention on helping the most vulnerable, both within our own organisations and in wider society, rather than instructing legal representation.
"Difficult decisions have to be made in these unprecedented times, when people's lives and livelihoods are being lost.
"If Ealing's primary concern is whether they can bridge the 18-point gap between our two teams to gain promotion, then that reflects very poorly on them considering everything else going on in the world right now."
The RFU have said they will conduct a review to decide the outcome of the 2019-20 season, during which Newcastle had won all of their 15 league games.
Ward told The Rugby Paper: "We are taking counsel at the moment from a legal perspective as to what our position is.
"We've still got to play Newcastle and we have a game in hand, so while they look like they're far ahead, the gap could quickly close."
Richards said Falcons "fully appreciate" that having a RFU review is "not a perfect situation".
"But these are not perfect times," he added. "Anyone with any sense of reason or fairness can see what should happen, but rather than using the pages of a national publication to discuss legal action we will just allow this process to reach a logical conclusion.
"There are more important focuses for our attention and resources at this incredibly testing time, which makes Ealing's public position all the more distasteful."
Second-placed Ealing had played one fewer game and had claimed one more point than third-placed Cornish Pirates.
Pirates chairman Paul Durkin told BBC Radio Cornwall: "I can understand both have got different views. My own view as regards the position in the league is I think that at this point the line has been drawn under the season, the positions should stand.
"While it is mathematically possible for Ealing to overtake Newcastle, I can't see that happening.
"We could overtake Ealing into second place, we would have had to play them in the last game of the season, they've got a game in hand on us but we're only a point behind.
"But I'm not going to argue the fact of whether we're second or third, at the other end of the table I don't think there's anybody that wouldn't think Yorkshire Carnegie will be relegated. And they're the two important areas; promotion and relegation.
"With everything else that's happening I think we should just draw a line under it, take the positions as they are, treat this as the end of the season and let's get on with it."