Coronavirus: Welsh Rugby Union cancels all league and cup games
Last updated on .From the section Welsh Rugby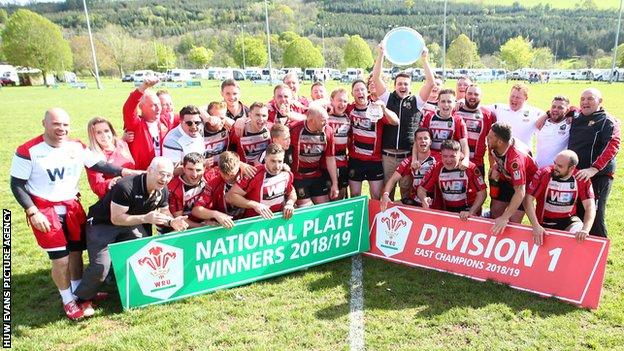 The Welsh Rugby Union has cancelled all league and cup competitions this season because of the coronavirus crisis.
The cancellation means there will be no promotion or relegation in any WRU league, with all teams remaining in their current division.
The WRU's decision was made given no team had mathematically won any league and 1,113 fixtures would still need to be played to complete competitions.
"We did not take this decision lightly," said WRU CEO Martyn Phillips.
The cancellation also includes the cross-border competition between Welsh and Scottish clubs due to start in April.
Medical staff at a WRU meeting on 20 March said it would be "socially irresponsible" to risk adding to the burden already on NHS staff.
Phillips said: "It is not intended to in any way diminish the games that have already taken place or the efforts of everyone involved.
"We were particularly aware of the impact on clubs with the potential to be promoted or win competitions.
"But in the end we have had to make the decision to ensure we play our part in safeguarding Welsh communities."
'100% the right decision'
Cardiff RFC are seven points clear at the top of the Welsh Premiership, but team manager Iestyn Williams told BBC Sport Wales it was "100% the right decision".
"We're disappointed, as is every other club. It's pretty tough on us and I feel sorry for our players and coaches who worked so hard through the season," he said.
"It's hugely disappointing since we haven't been in that position for years, but it's something we have to take, and move on to next season."
Pontypool RFC were five points clear at the top of the National Championship and on course for promotion to the Premiership.
CEO Ben Jeffreys said: "I assure you we'll respond to this in the right way. We support the WRU's decision."
At the bottom end of the table, the Premiership's bottom side Bridgend Ravens will avoid relegation to the National Championship.
"In such uncertain times, we fully support the WRU Community Board's decision to cancel all rugby activity for the rest of the season," said Ravens chairman Norman Spain.
"We'd like to thank the Welsh Rugby Union for their support at this time and we're all excited and ready to get back to action whenever it is deemed safe for us to do so."
'An altogether different challenge'
Many rugby clubs across Wales were severely impacted during February's flooding, and this latest decision by the WRU will add to the financial challenges facing clubs.
The WRU set up an 'exceptional circumstances' fund to provide financial assistance after Storm Dennis and recently promised additional support to combat the impact of coronavirus.
However clubs are facing a difficult few months with significantly reduced income, and those like Bedwas RFC have only just recovered from the flooding.
"It's pretty difficult to take really," said director of Bedwas RFC Will Rees.
"The flooding took place about a month ago now and it was a big community effort to get us back on our feet there.
"The club did a great job but now we are facing an altogether different challenge."
Pontypridd CEO Stephen Reardon said: "The most optimistic estimate for the start of next season is September but it may be even later than that.
"Not playing will have massive financial consequences which are going to be dire.
"It is going to be very difficult, but the WRU have pledged themselves to supporting clubs through these times."
WRU's 'case by case' approach
WRU community director Geraint John underlined the governing body's approach.
He told BBC Radio Wales Breakfast: "It's not just about what's happened now, we were always in that situation with what happened with storm Dennis.
"We have given them a (the clubs) small grant that will be paid out this month to them. We know that's not enough and we'll look at clubs on case by case situations.
"We sent out an information sheet to support the clubs in terms of how they can get financial help, what they can do internally at the club, hopefully that will help support them.
"We've got out people on the ground. We will continue to meet every single day, look at what we can do.
"We want our clubs there when we start playing rugby again. They are a vital part of our community where people can go, socialise and play sport, male or female [and] totally inclusive."