Coronavirus: Pro14 final cancelled due to coronavirus
Last updated on .From the section Welsh Rugby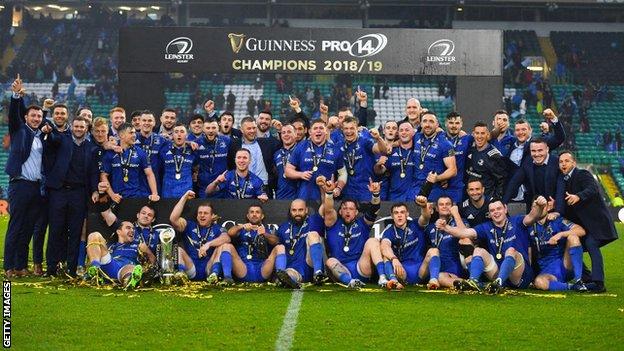 The Pro14 final in June has been cancelled, with the league suspended indefinitely as a result of the coronavirus outbreak.
Round 14 of the competition for clubs from Scotland, Ireland, Wales, Italy and South Africa from was due to take place this weekend, starting 20 March.
But Pro14 say the resumption of the season will only take place when four strict criteria points have been met.
The final was due to take place on 20 June at Cardiff City Stadium.
Refunds will be made automatically to all who have already purchased tickets.
Should any final be played as part of the 2019-20 season it will be hosted by the team with highest ranking based upon league records from this campaign.
Unbeaten Leinster are top of Conference A, with Edinburgh leading Conference B.
Pro14 say the following criteria must be met before the league is resumed:
Public Health Authorities cease to prohibit the resumption of sport and group training

Travel restrictions between our territories are lifted

No forced isolation or quarantine orders are in force when visiting our territories

Player welfare is safeguarded, including requirement for a suitable pre-recommencement training period, to be established in conjunction with the high-performance personnel at our participating unions and teams.
The Pro14 had initially been suspended on 12 March when tournament director David Jordan said: "We have made this decision with everyone's welfare foremost in our minds.
"With an evolving situation in the five countries that take part, it is important to make a clear decision in keeping with the advice of the various governments involved."