RFU Championship: Future of second-tier competition in doubt after funding cut
By Chris Jones
BBC rugby union correspondent
Last updated on .From the section Rugby Union422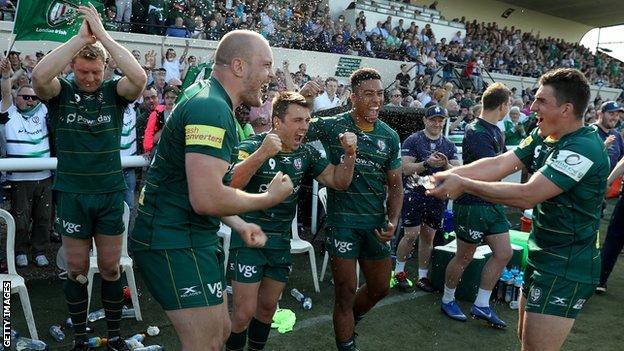 The future of the second-tier Championship has been thrown into doubt after the Rugby Football Union slashed funding to its clubs.
Money has been cut from about £534,000 to a 2015-level £288,000 per club.
The RFU says targets that were given to the league have not been met.
Championship clubs say they are "disappointed" with the decision, with Bedford chairman Geoff Irvine describing it as Premiership ring-fencing "in all but name".
The decision to cut funding comes after reigning Premiership champions Saracens were relegated to the Championship following persistent salary cap breaches.
Newcastle Falcons, who were relegated from the top flight last season, are currently eight points clear at the top of the table after winning all 12 of their games and look to set win promotion back to the Premiership at the first attempt.
What does the RFU say?
RFU boss Bill Sweeney said the the decision in 2015 to significantly raise Championship funding has been set against objectives and deliverables that "we do not believe have been achieved".
"This is a decision based on a principle of ensuring levels of investment are geared to a clear return on investment," he said.
"There are many worthy requirements from both the professional and community game and we need to make sure that every pound spent is clearly justified."
Despite fears from some Championship clubs that the decision marks a major step towards the 'ring-fencing' of the Premiership, the RFU insists that aspirational second-tier sides will still be able to fulfil their ambitions, regardless of this drastic cut in central revenue.
"Ultimately the difference in the levels of funding between the current agreement and our new commitment will not be the deciding factor for clubs with aspirations for promotion and will always require additional investment," Sweeney added.
"The gateway is still open for clubs to get into the Premiership if they have the necessary financial resources and meet the minimum standards required."
Furthermore, although a number of Premiership players have been developed in the Championship, Sweeney says the numbers are not substantial enough.
"The Championship is, and will continue to be, a useful way for players to get additional developmental experience, but we do not believe it is the primary place where Premiership and England players are discovered and developed."
How have the clubs reacted?
Bedford Blues chairman Irvine, whose side are eighth in the table, said the decision was "giving Premiership Rugby all that they want with regard to ring-fencing, in all but name and with none of the financial commitment or support".
He added: "The value of the Championship has not been recognised or rewarded by the RFU, in particular when you consider how many of the England playing squad started their playing careers in the Championship."
Meanwhile, Nottingham chairman Alistair Bow said in a statement that the RFU had offered no guarantee of funding beyond next season.
"It has come as somewhat of a surprise to most, if not all Championship clubs and it puts almost all clubs in a very difficult position," he said.
"There has been no warning, no opportunity for negotiation, or discussion and very little notice to be able to make informed business decisions on the back of it.
"The Nottingham Rugby board are extremely disappointed with the RFU announcement and subsequent reduction in funding, but we are even more disappointed and somewhat astounded at the underhand and deplorable way that we feel this has been communicated.
"To give Championship clubs next to no notice to be able to take action is not acceptable and we will be meeting urgently to review our strategy and consider our position going forwards."
Jersey Reds chairman Mark Morgan said announcing the cuts to funding when clubs were already signing players for next season was "immoral and irresponsible".
"There has been zero consultation, engagement, nor explanation before the announcement and no vision for the future of the Championship was provided," he continued.
Morgan said there had been no talk of missed objectives by the RFU at any Championship meeting over the past four years.
"The position the RFU has taken is disrespectful to the great work being done by Championship clubs and the army of volunteers that are involved at all levels who work to deliver a quality product and developmental opportunities for players and coaches alike," he added.
"The club is a major generator of income for the Island and attracts significant numbers of visitors to Jersey.
"We have no intention of giving up on competing professionally at this level without a fight, and will be talking to all stakeholders in the coming weeks about how we can maintain the club's position."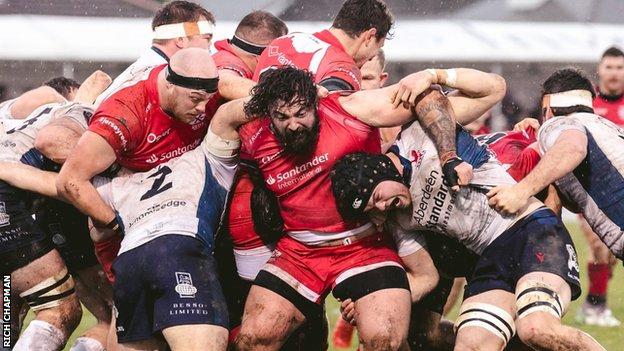 London Scottish chairman Malcolm Offord said the RFU's decision would lead to "fundamental changes" to the league.
"The chairman, president and management at London Scottish will be in immediate consultation with all stakeholders to achieve the most positive outcome for the players and staff at the club," a London Scottish statement said.
What about the players?
Coventry centre Heath Stevens told BBC Coventry & Warwickshire that the funding cuts were "a kick in the teeth" and showed "a lack of respect to players and coaches".
He said: "It's nearing the end of February and contracts usually run until the end of May, so it gives boys four more payments until their contracts are up.
"There have been rumours going around about this happening since early September. The communication needs to be so much earlier.
"It's a bit of a shambles in terms of how it's been handled. There's been a disregard for player welfare and players' minds. We've been treated like pieces of meat."
Stevens, 27, was at London Welsh when they went into administration in 2016 and believes players must do more themselves to ensure they have a career beyond rugby.
"We're quite lucky that our schedules allow us to go and do things around our professional careers and it's down to the players to be proactive and find out what they do and don't like and doing as much as they can," he added.
"We've all been guilty of going for a coffee with team-mates or putting our feet up. I think the boys have got to be more proactive in finding other things to do because rugby isn't going to be there forever.
"You have got to have other strings to your bow to counteract these scenarios. It's going to have a massive impact on what each club can do with their squad and how they can perform next season.
"This is going to be in the back of players' minds that they might not have a contract next year because of the lack of financing in the game."