Ex-Wales player Richard Parks claims South Pole British record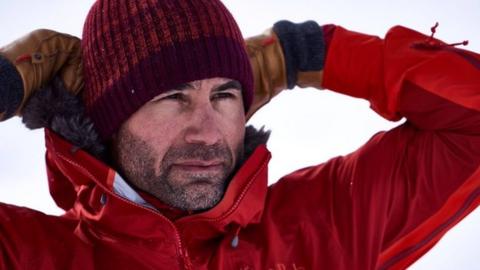 Ex-Wales rugby player Richard Parks is claiming a new British record for skiing solo to the South Pole.
The official time has yet to be confirmed, but Parks' team say he has beaten his own record of 29 days, 19 hours and 24 minutes.
He refused accept a food drop to bolster meagre rations in the final days of his challenge because it would have invalidated a record claim.
The extreme adventurer's trek began on 17 December with 25 days worth of food.
Accepting a food drop meant he would no longer have been "unsupported".
On the 25th day of his trek, a blizzard restricted Parks to six hours of progress, a delay which prompted him to restrict his food intake for the final push.
Parks' 1,130km journey went from the Antarctic coast's Hercules Inlet to the South Pole.
He had set out to challenge Norwegian Christian Eide's world record of 24 days, one hour and 13 minutes.
Parks is on his fifth trek in the region and had planned to eat 7,000 calories a day and a food drop by Antarctic Logistics and Expeditions could have been arranged.
The 42-year-old became an adventurer after being forced to retire from rugby in 2009, taking on some of the world's toughest challenges in unforgiving environments.
His adventures included a previous attempt to ski unassisted to the South Pole, but he had to abandon that effort because of the strain on his body and "horrific" weather conditions.
In 2014, Parks set the British record for the same adventure, beating the previous mark by just under 10 days.
Parks played rugby for Pontypridd, Celtic Warriors, Dragons and Leeds Tykes and made four appearances for Wales before a shoulder injury forced his retirement.
Inspired by poem
Parks has taken inspiration from the poem Ulysses by Alfred Lord Tennyson.
BBC Radio Wales presenter Roy Noble is a friend of Parks' and narrated it especially for the adventurer to listen to in the Antarctic.
Parks also has this section of it tattooed on his thigh:
Tho' much is taken, much abides; and tho'
We are not now that strength which in old days
Moved earth and heaven, that which we are, we are;
One equal temper of heroic hearts,
Made weak by time and fate, but strong in will
To strive, to seek, to find, and not to yield.