Champions Cup: Glasgow Warriors 7-12 La Rochelle - hosts on brink of pool stage exit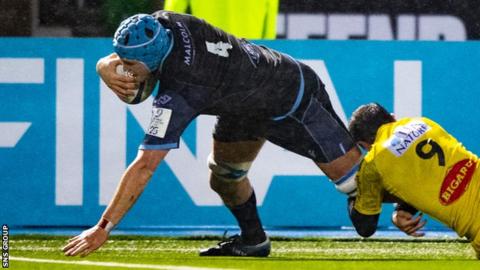 European Champions Cup: Glasgow Warriors v La Rochelle
Glasgow Warriors (7) 7
Try: Brown Con: Hastings
La Rochelle (12) 12
Tries: Favre, Botia Con: James
Glasgow Warriors are all but out of the European Champions Cup after a dramatic 12-7 defeat by La Rochelle at Scotstoun.
Fraser Brown scored the opening try for the hosts but La Rochelle, despite having nothing to play for, took control with scores from Jules Favre and Levani Botia.
And in a scoreless second-half, Scott Cummings' last-minute try was disallowed when Matt Fagerson was judged to have led with his forearm in the build-up.
That would have brought Glasgow level with a conversion to come, but instead Fagerson was shown a red card.
The loss leaves them five points behind pool three leaders Exeter Chiefs, who face Sale on Sunday, and with only a forlorn hope of gaining one of three best runners-up spots.
Wasteful Glasgow leave European chances behind
The late drama only made Glasgow's night even more horrible. Having toiled awfully all night they looked like they had dug out a shot at victory when Cummings went over in the right corner to make it 12-12 with a conversion to come. At last they'd broken the French. At last they had found a semblance of fluidity. They had got out of jail.
But no. In the build-up, Fagerson had taken the ball into contact and led with his arm into the throat of Danny Priso. The try was ruled out and Fagerson was red-carded. It was the tin hat on a very damaging night for Rennie's team. It was not supposed to be like this.
Having beaten La Rochelle in a thriller last weekend, Glasgow were hotly fancied to do the double which would have kept their hopes of progression to the quarter-finals very much alive with only two pool games left to play next month. So much for favouritism.
The fact the French had lost all three of their games in the tournament didn't suggest that they were going to win this. Neither did the weather - driving rain, blustery wind and biting cold. It was a disgusting night. It all suggested that Ronan O'Gara's team might not be wholly invested in this one. O'Gara had rested a few of his bigger names into the bargain.
Glasgow took an early lead which only reinforced the view this was going to be a decent night for them. In the opening minutes they had a couple of attempts at launching a lineout maul and firing it over La Rochelle's line, both failing. The third time they did it they got it right with Brown being swept over as the French forwards splintered.
When Hastings put over the conversion Glasgow had a seven-point lead and all the momentum they hoped for. Things turned from there. Dramatically so.
Glasgow stopped working and started retreating. The intensity they had to begin with was lost. The control went. La Rochelle got on the ball and dominated the rest of the half, their ball-carriers making inroads while playing into the teeth of the wind and rain.
Brock James, their fly-half, had a kick at goal midway through the half that got killed by the breeze in midair and then got blown away to the right. La Rochelle were more alive in that moment than Glasgow. The next time the home team saw the ball they were collecting it after Favre was put in at the right corner.
James missed the conversion - attempting to kick accurately at posts that were swirling madly was almost comical - but La Rochelle were up and running. They scored again just before the break. Hastings had kicked downfield and Kini Murimurivalu ran it back, got in behind the Glasgow defence and La Rochelle went from there.
Botia did damage and threw a lovely offload to Marc Andreu to keep things moving. Next it was Alexi Bales, the scrum-half, who took them into the Glasgow 22 and from there, Botia picked up and went over. A clinical score but only possible because Glasgow had lost their aggression in defence. James converted in front of the posts to make it a five-point game. In truth, La Rochelle deserved a slightly bigger lead than that.
Rennie brought on Nick Grigg and George Horne early in the new half. He might have had the urge to replace most of his pack to boot but he gave them time to get their stuff together - and they did. If La Rochelle owned much of the opening half then Glasgow owned the second, themselves playing into the foulest conditions.
Around the hour-mark there was a pivotal passage of play as Glasgow pounded away at the French from close-range scrums practically under La Rochelle's posts. It went on and on, the French giving away penalty after penalty in a grim bid for survival. Glasgow had a few snipes and got repelled, they tried to drive over a scrum but were denied, they went to touch and tried to get the job done with their maul but they couldn't make that happen either.
Referee Wayne Barnes was surprisingly slow in going to his pocket to punish all this infringing, but eventually he did after something like the sixth straight offence. When Bales kicked the ball out of an advancing scrum, he walked. It was the 14th penalty La Rochelle had given away with still close to a quarter of it left to play.
Glasgow had to score, but didn't. It was painful stuff. Opportunity after opportunity and still no points, Niko Matawalu bringing the lengthy siege to an end when he couldn't gather Horne's speculative skip pass out wide. Glasgow just didn't have the accuracy and the power to break down the visitors despite minutes camped on the opposition line.
Even when La Rochelle went down to 14 men Glasgow could do nothing to break them, the 10-minute spell ending 0-0. Massive, possibly terminal, damage was done to their European prospects as a consequence. They had their chance here - and they left it behind.
Glasgow Warriors: Seymour, Steyn, Jones, McDowall, Matawalu, Hastings, Price; Seiuli, Brown, Z Fagerson, Cummings, Gray, Wilson, Gibbins (capt), M Fagerson.
Replacements: Turner, Allan, Nicol, Harley, Gordon, G Horne, Grigg, Jackson.
La Rochelle: Murimurivalu, Favre, Plessis, Botia, Andreu, James, Bales; Wardi, Bosch, Puafisi, Lavault, Tanguy, Gourdon (capt), Boudehent, Alldritt.
Replacements: Lebrun, Priso, Pelo, Leroux, Kieft, Berjon, West, Aguillon.