Measles hits Tonga women's World Cup qualifying bid
Last updated on .From the section Rugby Union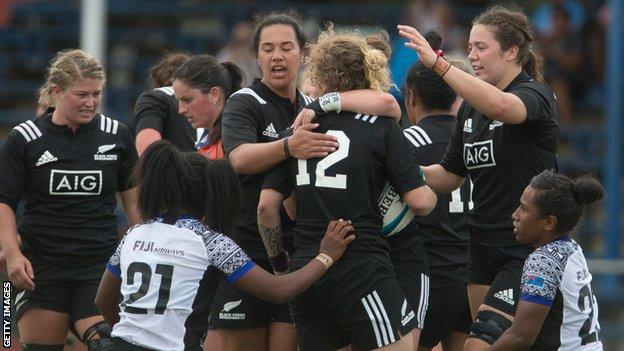 A women's rugby team who travelled overseas to a tournament have been placed in quarantine following a measles outbreak.
Tonga women were hoping to compete at the Oceania Championship in Fiji - a route to qualify for 2021 World Cup - but are now out of the tournament.
They were scheduled to play Australia A on Monday and Samoa on Friday.
A Fiji health ministry official said Tonga's participation could have spread the disease internationally.
"There's a risk that the teams they play against and any other people they come into contact with during the infectious period of the disease could be exposed and develop the disease," said Dr Aalisha Sahukan.
"And those who potentially develop the disease could spread it to other people in Fiji, and overseas when the national teams return home."
Tonga's health ministry last week reported 251 confirmed or suspected cases in the country but there have been new cases reported across the region affecting Samoa, Tonga, Australia, New Zealand and now Fiji.
Schools have been closed and public gatherings affected.
The Tonga team was reported to the Fiji Ministry of Health & Medical Services and Oceania Rugby to have suspected symptoms of measles earlier this week, leading to the precautionary measure.
World Rugby are expected to make a statement on Tonga's possible qualification for the 2021 World Cup.