Rugby World Cup: Scotland consider legal action over Japan match threat
Last updated on .From the section Scottish Rugby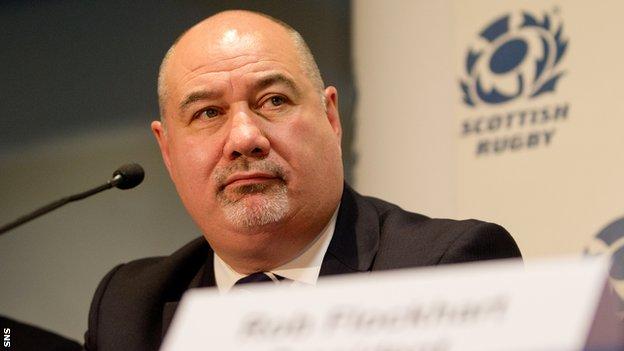 Rugby World Cup Pool A: Japan v Scotland
Venue:
International Stadium Yokohama, Yokohama
Date:
Sunday, 13 October
Kick-off:
11:45 BST
Coverage:
Live on BBC Radio Scotland, Radio 5 Live, plus text updates on the BBC Sport website and app.
Scottish Rugby believes it has a legal case against the game's governing body as it seeks to ensure their decisive World Cup match with Japan goes ahead.
The game in Yokohama is under threat amid concerns over Typhoon Hagibis.
World Rugby will do an inspection of the stadium at 22:00 BST on Saturday, with a decision expected within two hours about whether it will be played.
It has already cancelled two Saturday games and declared them a draw - a repeat would mean Scotland's exit.
But Scottish Rugby's Mark Dodson says "legal opinion unravels" the case.
Gregor Townsend's side lie third behind Ireland and Japan in Pool A and must beat the hosts - earning four more points than them - to progress to the quarter-final stage unless the Irish lose to Samoa.
World Rugby rules state that "where a pool match cannot be commenced on the day in which it is scheduled, it shall not be postponed to the following day and shall be considered as cancelled. In such situations, the result shall be allocated two points each and no score registered".
But Dodson said: "World Rugby have pointed us back to the participation agreement and that it is clearly stated there. We've had a legal opinion and then we've taken a leading sports QC opinion in London that challenges that and unravels the World Rugby case."
'We will play anywhere, anytime'
Chief executive Dodson argued that rugby fans around the world "are absolutely astounded" at World Rugby's "rigidity" and thinks the match should be played on Monday if it cannot go ahead on Sunday.
"We don't want to get in some sort of legal arm wrestle with World Rugby, but our view is it doesn't sit right with us, we don't feel it's just, we feel there's other ways," the chief executive said.
"I think most people feel that if it had been an economic powerhouses - let's say New Zealand - perhaps more thought would have been given to a flexible approach.
"I think in the court of public opinion, we've already won. Right from the get go, we said we will play any place, anywhere, behind closed doors, in full stadiums. We will travel the length and breadth of Japan.
"We have spoken to the Japan Rugby Football Union and they are keen for this game to go on. What we're asking for is a common-sense approach that allows this game to be played in perfect safety 24 hours after the storm clears."
However, World Rugby described those comments as "disappointing, at a time when we are doing everything we can to enable all Sunday's matches to take place as scheduled".
It pointed out that Scottish Rugby signed the competition's terms of participation - which stated that postponed matches would be declared a draw.
"The sheer predicted scale and impact of the typhoon, and the complexity of team movements for eight matches, meant that an even-handed application was just not possible without putting safety at risk," a statement read.
"Therefore, it was the fair and correct decision for all teams to maintain the position outlined in the terms of participation."
'We're not going to be collateral damage'
Dodson told the Today programme on BBC Radio 4 that "for World Rugby to simply state that the game has to be cancelled goes against the whole sporting integrity of the tournament".
World Rugby hopes the worst of the typhoon will have passed by Sunday and that the game will go ahead, but Dodson is angered by its refusal to consider moving the game to another time or venue.
"We've been preparing for this tournament now for the last four years, our guys are over 100 days in camp, we've played three games already and the fourth game in this particular case is pivotal," he added.
"I'm convinced World Rugby and the Japanese authorities are doing everything they can to get this game on, on Sunday. But if their best endeavours fail for whatever reason, that's when we have an issue.
"My view is that we're not going to let Scotland be the collateral damage for a decision that was taken in haste."
'Dodson's plea will fall on deaf ears' - analysis
BBC Scotland's Tom English in Yokohama
A complex situation has now crystallised into something far simpler. Scotland's game against Japan either goes ahead on Sunday in Yokohama as planned or it doesn't happen at all - and the Scots exit the World Cup as a consequence of Typhoon Hagibis.
Scottish Rugby has brought in its legal experts but World Rugby are not listening. It's their tournament, their rules, their interpretations. No QC is going to change that. Scotland signed up to the terms of participation and in the eyes of World Rugby, that's that.
In his news conference in Yokohama on early Friday evening, Dodson attempted to strike a conciliatory tone and tried to throw himself at the mercy of the governing body. He pleaded for common sense. It was the plea of a man with his back to the wall and a plea that will fall on deaf ears.
When they called off Italy's game with New Zealand and England's game with France, World Rugby set a precedent and they will move not from their position - pool games that can't be played on the scheduled date will be abandoned. However farcical and unfair this may turn out to be, they will not make an exception for Scotland. Their statement on Friday showed how irked they have become. Scottish Rugby is fighting a losing battle here.
It's Sunday or nothing for this game. Truly we are in Lap of the Gods territory. It's up to Hagibis now.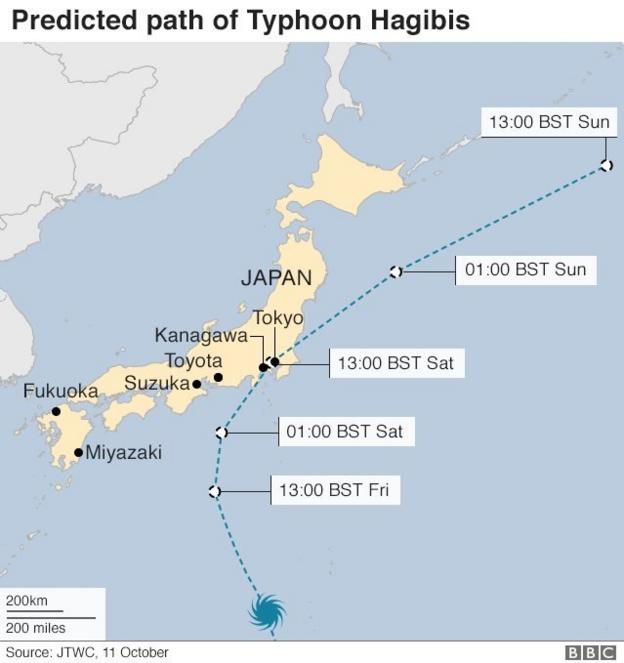 England coach Jones on typhoon
On Thursday, England head coach Eddie Jones spoke about the impact of the typhoon.
He said: "We've been talking about it all the time, about the possibility that this was going to happen.
"It's typhoon season, so you go somewhere else and it's terrorists' season. You know what's going to happen. It's typhoon season here and you've got to be prepared for it.
"We had an idea it could happen and therefore you have to accumulate points in your games to put yourself in the right position in case that happened.
"We just knew that there was the possibility of a game like this during the tournament so we just wanted to put ourselves in the best position we could.
"This is supposed to be a big typhoon, so I don't see any other option that the organisers had [than calling off England's game against France].
"That's why we're not concerned at all about the comings and goings of it. We think it's the right decision."
On the BBC Sport website we reported Jones had said Scotland 'only have themselves to blame' if they are knocked out of the World Cup because of the typhoon.
We would like to make clear Jones did not say this - he was speaking purely about England's position and not Scotland or any other team.