Rugby World Cup: Gregor Townsend has 'faith' in Japan game going ahead

By Andy Burke
BBC Scotland in Japan
Last updated on .From the section Scottish Rugby752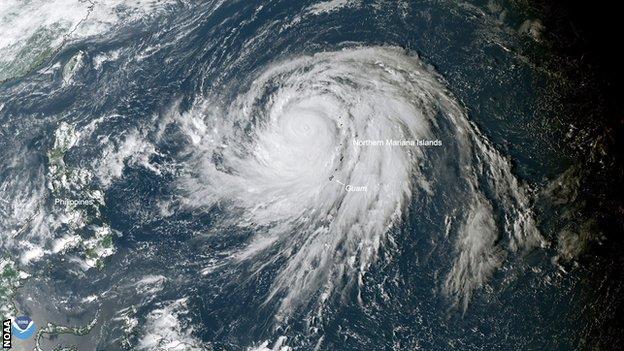 Gregor Townsend has "put faith" in World Cup organisers ensuring Scotland will not be denied a chance to play their way into the quarter-finals.
Two Saturday games have been cancelled and declared draws on safety grounds as Typhoon Hagibis closes in and a repeat on Sunday could eliminate Scotland.
Townsend's side must defeat hosts Japan in Yokohama to have a chance of staying in the competition.
"We've been told now that Sunday looks clear," Scotland's head coach said.
"Saturday is the day the typhoon comes in and it comes through quite quickly."
Scottish Rugby has called on World Rugby to devise "contingency plans" to protect the integrity of the competition in the event that the Pool A fixture cannot go ahead in Yokohama.
A final decision will not be made until the morning of Sunday's match, seemingly ruling out any rescheduling.
"What may happen is infrastructure might not be in place even though the weather is nice," Townsend said. "That's what we've got to believe and have faith that the game will be played even if it's behind closed doors or a different venue.
"If it's played elsewhere in Yokohama or Tokyo on Sunday, there are lots of venues that might not be affected by the weather."
Scotland lie third in their group and need to defeat Japan - and take four more points than the hosts - to progress to the knock-out stage.
Each team in Saturday's cancelled matches - New Zealand v Italy and England v France - have received two points.
Such a scenario would almost certainly see Scotland knocked out of the World Cup, with Ireland - should they beat Samoa - and hosts Japan advancing to the knockout stages.
World Rugby's statement earlier on Thursday gave no indication that any alternatives were being considered other than the match being staged in Yokohama on Sunday.
However, there are provisions in the tournament participation agreement on "force majeure", which includes a "storm or tempest", concerning matches that cannot be played.
"It would make things very unusual for any World Cup in any sport to be decided by the game being called off on one day," Townsend said. "If we are looking outside the hotel window on Sunday and it's sunny, it would be quite strange if a game could not be played that day or the next day.
"If they have made the decision that the game will still be played in Yokohama, they must be pretty certain that the game will go ahead."
Townsend's squad will have one less day to prepare for the match as they will be unable to train during the height of the storm on Saturday.
World Rugby stressed that "The decision to cancel matches has not been taken lightly" and that "a thorough assessment of venues will take place after the typhoon has passed before a final decision is made ‪on Sunday morning".
"We've looked again at the potential to apply some kind of consistent contingency plan across all the games that could be affected this weekend," tournament director Alan Gilpin said.
"Again, it's important that we treat all those consistently and fairly. I think it's important to remember, Italy are in exactly the same position that Scotland are in.
"The Japan v Scotland game clearly is a huge match. We'd love to be playing that game. We'll be working incredibly hard with our colleagues from Japan Rugby 2019, the host cities and all the authorities on Sunday morning to do everything possible to see that match played, but we won't treat that match - if it can't be played - any differently to the other matches."
'Rugby world wants Japan to go through' - analysis
BBC Sport's Andrew Cotter
My feeling is that the Scotland v Japan game will go ahead by the information we have. It is not just that the typhoon will have passed by then, it will be the residual damage it has caused. There are many factors that come into play.
The excitement around the game is enormous and everybody wants it to happen - and, although it cannot happen beyond Sunday night, we understand that might not be as set in stone as we thought. Everything is up in the air and the decision has to be made six hours before kick-off, so we just have to wait and see.
Scotland say they are ready to play on Monday if needs be. Tournament organisers have said that the fact Italy have been knocked out by the typhoon means it would be difficult to play Scotland and Japan on Monday. Scotland are a slightly better side than Japan, but it is no more than a 50/50 game because of the will of the rugby world to see Japan go through.
It would be the kind of upset the World Cup needs because the top eight sides almost seem to be set in stone. There aren't many shocks, so everyone wants to see Japan go through. They both play an exciting brand of rugby and the pressure is huge for both sides, so hopefully the game will go ahead.