Rugby World Cup: Typhoon Hagibis forces England-France off; Scotland wait & Ireland play

By Chris Jones
BBC rugby union correspondent in Tokyo
Last updated on .From the section Rugby Union1050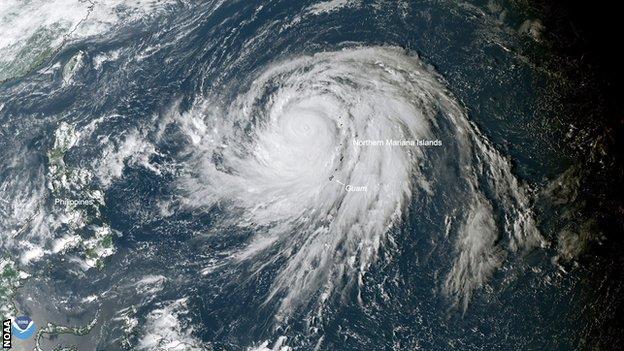 England's Rugby World Cup match against France on Saturday has been called off because of Typhoon Hagibis, but organisers hope Scotland against Japan can go ahead as planned on Sunday.
The typhoon, described as the biggest of the year, is set to wreak havoc in Tokyo and surrounding areas.
Ireland's match with Samoa in Fukuoka is expected to go ahead as scheduled.
"The decision to cancel matches has not been taken lightly," said tournament director Alan Gilpin.
"It has been made with the best interest of team, public, and tournament volunteer safety as a priority based on expert advice."
The Pool B match between New Zealand and Italy in Toyota on Saturday has also been cancelled, denying Italy their outside chance of qualifying.
If the Scotland-Japan match was to be called off, Gregor Townsend's side are likely be knocked out of the World Cup.
Cancelled matches see both teams awarded two points as part of a 0-0 draw.
That means England progress as winners of Pool C, two points ahead of France in second place, and face a probable quarter-final against Australia, with Wales expected to top Pool D and therefore play the French.
France would have the advantage over Wales of a two-week rest, compared to one week.
What has been announced?
OFF:

England v France and New Zealand v Italy (Saturday).

ON:

Ireland v Samoa (11:45 BST, Sat) and Australia v Georgia (Fri) both set to go ahead.

ON AS IT STANDS:

All four Sunday games - including Scotland v Japan (11:45 BST) - but a review will be made on Sunday morning depending on the damage caused by the typhoon.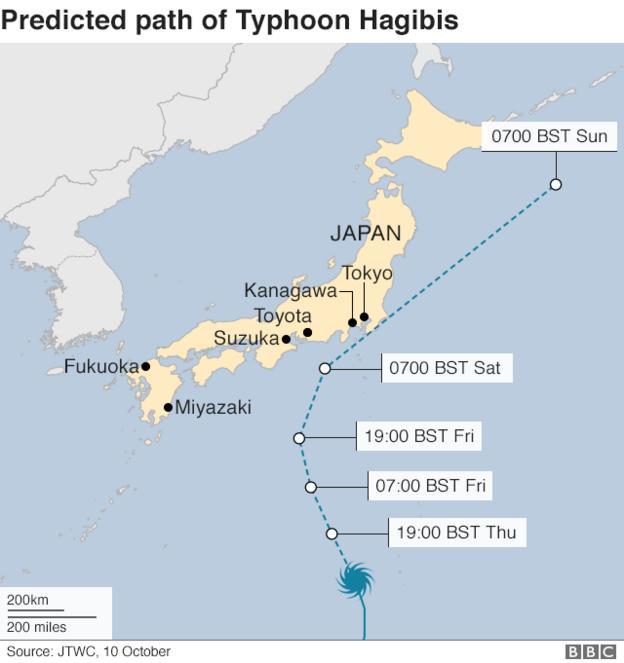 Scotland, third in Pool A on 10 points with leaders Japan on 14, need to beat the hosts to go through, potentially relying on bonus points.
If second-placed Ireland beat Samoa, a weather-enforced two-point haul would mean Scotland finish third in Pool A and go out, although, in this scenario, an Ireland defeat would mean Scotland progress.
"We are in regular dialogue with World Rugby at all levels to work to ensure our fixture against Japan on Sunday can be played as planned," said a Scottish Rugby spokesman.
"Public safety is the clear priority.
"Scottish Rugby fully expects contingency plans to be put in place to enable Scotland to contest for a place in the quarter-finals on the pitch, and will be flexible to accommodate this."
England coach Eddie Jones said his squad will leave Tokyo for Miyazaki, the base for their pre-tournament training camp.
"We're told what to do. There's no use speculating on the alternatives. We're excited about having great preparation for the quarter-finals," he said.
"We'll have a short pre-season camp in Miyazaki and then we're off to Oita. We have an exceptional record in two-week preparations."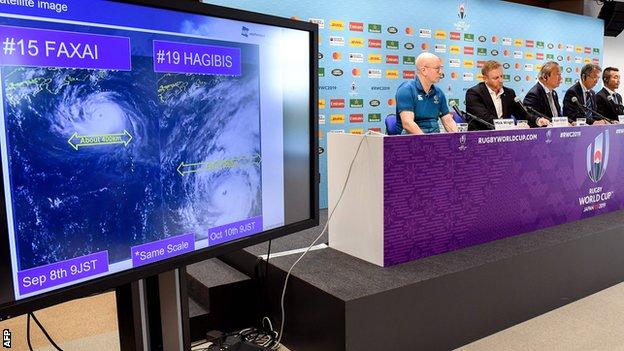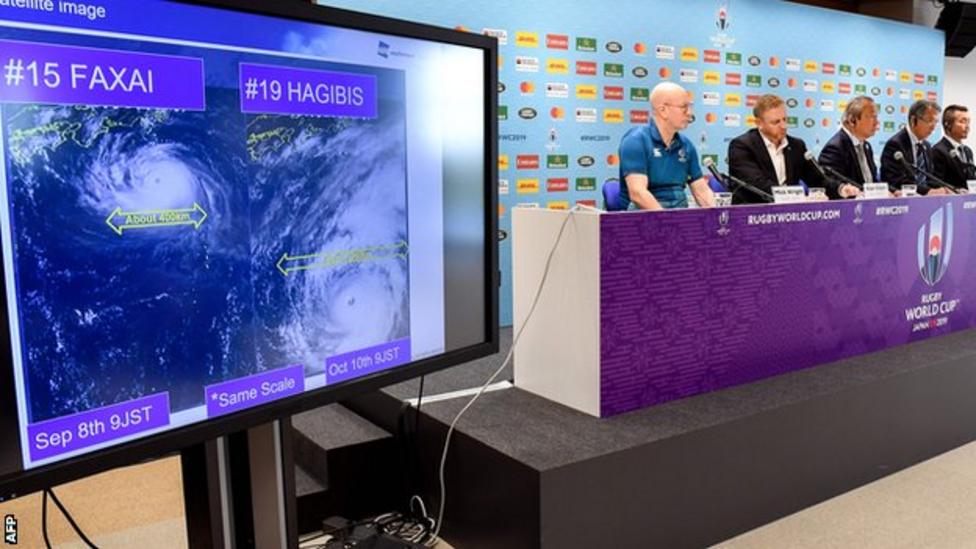 'Every effort' to play Sunday matches
The typhoon is expected to clear by Sunday morning, when tournament bosses will stage a comprehensive review to see if the four scheduled games can proceed as planned.
The deadline for a final decision is six hours before kick-off.
"We are continuing to review Sunday's matches and make every effort to ensure they are as played as scheduled," added Gilpin.
"A thorough assessment of the venues will take place after the typhoon has passed before a final decision is made on Sunday morning."
Gilpin said World Cup organisers looked "exhaustively" at contingency plans, which involved moving or rearranging matches, before deciding that was unfeasible on both logistical and safety grounds.
"The risks are just too challenging to enable us to deliver a fair and consistent contingency approach for all teams and participants and importantly to provide confidence in the safety of spectators," he said.
All fans with tickets to cancelled matches will be entitled to a full refund.
BBC weather presenter Simon King said the typhoon will bring wind gusts in excess of 120mph and 300-500mm of rain.
"This will be significant in a built-up area such as Tokyo with damage and flooding expected," he added.
Japan is used to being hit by heavy storms, with the most recent at the start of September, when Typhoon Faxai hit Tokyo. It brought wind gusts of 130mph and left nearly a million without power when it tore through.
"Hagibis is about three-and-a-half times bigger than Faxai and will therefore bring impacts over a much larger area of Japan," said King.
Gilpin said there are "no regrets" about bringing the tournament to Japan during typhoon season.
"What we have seen over the last three weeks in every respect vindicates the right decision to be here in Japan," he said.
"It's been an incredible tournament on and off the field and we always knew there were going to be risks.
"It is rare for a typhoon of this magnitude to cause this impact this late on the typhoon season."
Meanwhile, race organisers will monitor the storm's path before deciding whether to cancel Formula 1's Japanese Grand Prix qualifying on Saturday. And a 2020 Olympic Games test event for BMX racing scheduled for this weekend in Tokyo has been brought forward to Friday.
Reaction from fans
England supporters told the BBC how their travel plans have been thrown into chaos.
"We are absolutely devastated," said Karl Green, who had hoped to begin his honeymoon with new wife Shannan at the England-France fixture in Yokohama, about 20 miles south of the capital.
The couple were at Heathrow Airport, waiting for their flight to Tokyo, when they got the news that this would not be possible.
"We got married in May and planned our delayed honeymoon over a year ago so we could watch England in the World Cup," Karl, 27, from Essex.
England coach Jones said he had sympathy for supporters who would miss out.
"It is difficult for them because it was going to be a special occasion and we feel for them and we are lucky to have such great supporters," said Jones.