Rugby World Cup: Gatland expects Patchell to recover from head injury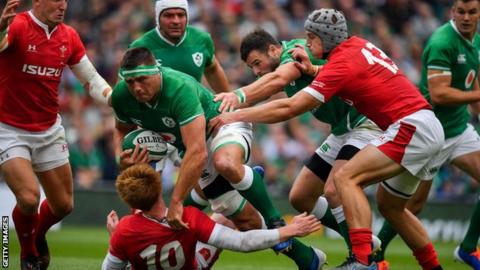 Warren Gatland is confident Rhys Patchell will be fit for Wales at the World Cup after the fly-half was forced off by a head injury in defeat by Ireland.
Head coach Gatland saw Patchell depart in the 23rd minute of their 19-10 warm-up loss in Dublin.
Gatland said he expects that the Scarlets' 10 would be "fine" to be on Wales' flight to Japan on Wednesday.
"It was just an HIA (Head Injury Assessment)," said Gatland.
"He has got to be assessed over the next few days. He seems okay in the changing room now."
Wales are already without Six Nations Grand Slam number 10 Gareth Anscombe, who suffered a knee injury in defeat to England on 11 August.
Patchell suffered two concussions during 2018-19 playing for Scarlets.
Gatland's 'low tackle' concern
Those two concussions last season occurred after a similar injury suffered by the player which meant Patchell had sustained three head knocks in 12 months.
Patchell also suffered a similar head injury playing for Cardiff Blues in 2015.
In Dublin, the 26-year-old was replaced by the experienced Dan Biggar after receiving the knock while trying to tackle CJ Stander.
Gatland says Wales' medical staff will be consulted over Patchell's previous head injuries and they will "see how he fares over the next couple of days".
Gatland added: "We are hoping he gets some positive luck because he deserves it.
"Where he has got that knock he has probably gone a bit low.
"The ironic thing about World Rugby is everyone is talking about the head and keeping the tackles down, but most of the concussions from the tackler going low and making contact with hips and knees.
"That is one aspect we need to continue to work on [with] the defensive player as well."
Patchell beat Cardiff Blues' Jarrod Evans to a place in Wales' 31-man squad.
Rugby World Cup tournament organisers have the power to order an independent assessment before a player returns to action.
They have no jurisdiction on whether Wales decide to fly Patchell to Japan, and would be likely to take a more collaborative approach with Welsh medical staff over any concussion issues.
World Rugby's guidance document on recurrent or multiple concussions states: "Players with a history of two or more concussions within the past year are at greater risk of further brain injury and slower recovery, and should seek medical attention from practitioners experienced in concussion management before return to play.
"In addition, a history of multiple concussions or players with unusual presentations or prolonged recovery should be assessed and managed by health care providers with experience in sports-related concussions."