Eddie Jones and John Mitchell to lead England until at least 2021

By Chris Jones
BBC rugby union correspondent
Last updated on .From the section Rugby Union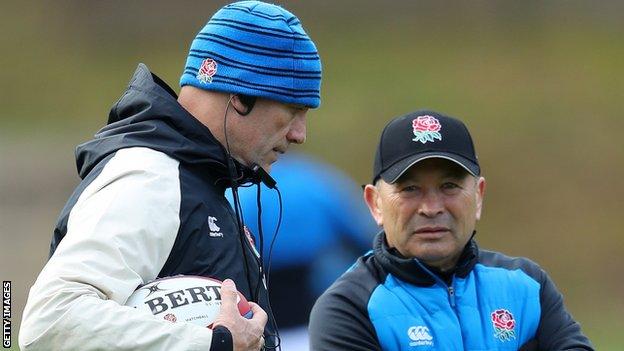 Eddie Jones and assistant John Mitchell are set to continue as England's coaching team until at least summer 2021 after the Rugby Football Union abandoned its previous succession plan.
However, new RFU chief Bill Sweeney says this policy has now shifted.
"It is not about him grooming a successor," Sweeney told BBC Sport on Thursday.
Jones and Mitchell could both now stay even if England underperform at this year's Rugby World Cup, with Sweeney adding there is no strict break clause in Jones' deal.
It was previously expected Jones would only stay in his role if England reached the semi-finals in Japan.
"We will sit down and we will evaluate how it has gone and look at the performance and then make a decision which is in the best interests of England Rugby," Sweeney added.
"I think it is a bit unfair to say there is a clause in the contract and it is black and white.
"We feel we have got a really strong coaching set-up now, going through Japan and coming back for the almost-immediate Six Nations and the aftermath of that."
Former All Blacks coach Mitchell has signed a two-year extension to his deal, with Sweeney hailing his impact since joining the set-up last autumn and his strong working relationship with Jones.
However, Sweeney says Mitchell is not currently being earmarked to succeed Jones as head coach.
"He is a proven coach with great credentials, so that was purely the decision, it was nothing to do with succession planning," he said.
"Eddie was instrumental in that approach, and wanted John Mitchell to sign up and be part of his coaching team through to June of 2021, so we approached John from that perspective.
"That came after a conversation with Eddie about his commitment, and he has given that."
Sweeney is the RFU's fourth chief executive in as many years, and inherits a union in the midst of a cost-cutting drive.
However the former British Olympics chief says the financial outlook at Twickenham is not as bleak as he expected.
"It really is not a financial crisis," he said. "Inherently here at the RFU you have got a really strong business model.
"I would say we have gone through a little bit of a blip, a bit of a bump, but we are confident we are going to come out of that pretty strong."