Wales confirm Barbarians double-header in Cardiff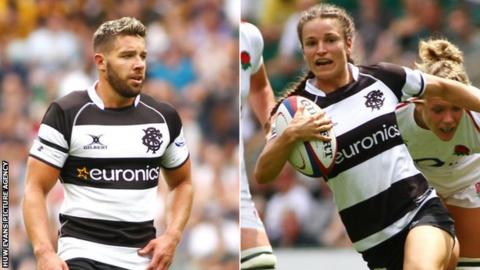 Wales will play the Barbarians in an historic double-header at the Principality Stadium in November.
Warren Gatland will coach the Barbarians men in Wayne Pivac's first Wales match in charge after the World Cup in Japan.
The Barbarians will also face Wales women for the first time on 30 November.
Ex-Wales captain Rachel Taylor will succeed ex-Wales captain Liza Burgess as Barbarians women's forwards coach.
Gatland is delighted he will have the chance to lead the invitation team after his reign as Wales coach ends at the World Cup.
"It goes without saying that this match has huge significance to me. Wales has been my home for the last 12 years and I have thoroughly enjoyed my time here," he said.
"We have had some great success with Wales and we are currently in a hugely important year, culminating at the Rugby World Cup.
"To have the opportunity to return to Cardiff post RWC 2019 is fantastic and I'm really looking forward to coaching the Barbarians in what I believe is the best rugby stadium in the world and against the best fans in the world."
Pivac said: "I'm looking forward to kicking off my tenure with Wales, at home in Cardiff, in what will be a really special game.
"It is an opportunity for us as coaches to get the squad together ahead of the [2020] Six Nations and it will be a great day for all the fans."
Jasmine Joyce and Elinor Snowsill started for Barbarians in their 40-14 defeat by England women at Twickenham last weekend and could face the invitation team in the autumn.
Alisha Butchers also played for Barbarians when they beat USA 34-33 in April, a game in which Joyce scored four tries.
Wales women's coach Rowland Phillips said: "It has been a huge honour to have three current Wales players - Elinor Snowsill, Jazz Joyce and Alisha Butchers involved in the Barbarians' first two international games.
"All three made an excellent contribution to the club.
"It's also great to see two Welsh coaches involved - Liza Burgess in recent matches and now Rachel Taylor."
The Barbarians are an invitational team which has been playing national sides on a regular basis since 1948.
The Barbarians women began life with wins over Munster and the British Army in 2017-18.