European Rugby Champions Cup - who qualifies for the quarter-finals?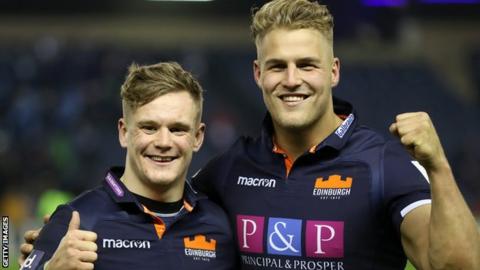 Calculators at the ready, we have reached the final round of Champions Cup pool games.
As ever, there are catches, caveats and a whole load of maths to be considered when it comes to who is going to make the last eight.
Edinburgh seized a home quarter-final with Friday night's win over Montpellier and their victory means Glasgow, in Pool Three, are assured of a place in the last eight. It is the first time two Scottish sides have made the knockout stage of Europe's top-tier competition.
English champions Saracens are already assured of their quarter-final spot with home advantage dependent on the outcome of Saturday's match against Glasgow.
Holders Leinster are also through and could confirm their position as Pool One winners with a draw against already-eliminated Wasps.
Exeter must beat leaders Munster in Pool Two to keep their hopes of making the knock-out stages alive.
Ulster can guarantee their place in the quarter-finals with a bonus-point win over Leicester in Pool Four.
Got all that? This is the fine detail to keep across
Who qualifies for the quarter-finals?
Let's start with the basics. Teams get four points for a win, two points for a draw and can earn a bonus point for scoring four or more tries or losing by seven points or fewer.
The five pool winners and the three runners-up with the highest number of points qualify for the quarter-finals.
If two clubs in the same pool are equal on points, their ranking is decided by the results of the two matches played between them.
The first criteria is the number of match points from the two fixtures. If that is the same, the team with the highest aggregate score from the two games goes through.
If their points difference is the same, the team that scored the most tries in the two games is ranked higher.
If the ranking still cannot be determined, it's decided on points difference from the entire pool stage, then number of tries scored, then how many of the team's players were suspended for disciplinary reasons.
In the unlikely event that ranking remains unresolved, teams will draw lots.
Who gets a home quarter-final?
The pool winners are ranked one to five and the runners-up six to eight according to the number of points they earned in the pool stages.
Sides ranked one to four have a home quarter-final:
Club 1 v Club 8 (QF1)
Club 4 v Club 5 (QF2)
Club 3 v Club 6 (QF3)
Club 2 v Club 7 (QF4)
The highest-ranked clubs in the pool stage have home country advantage for the semi-finals, which will be played as follows:
Semi-final 1: winner QF1 v winner QF2
Semi-final 2: winner QF3 v winner QF4